Tim Pawlenty Appeals To College Republicans With Charlie Sheen, Lady Gaga References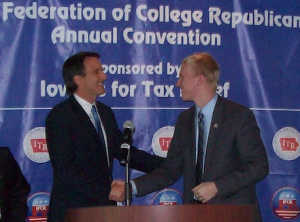 Potential Republican presidential candidate Tim Pawlenty may not have the ego of Trump or the name recognition of Romney, but he sure knows how to talk to college kids. At an appearance of Iowa College Republicans in Des Moines, TimPaw got things fired up right off the bat with a reference to Charlie Sheen: "Now, we may not in this room have 'tiger blood' like he does, but we do have something else in common with him. There's going to be a lot of winning on the Republican side in 2012." According to Kay Henderson, news director at Radio Iowa, the joke got some applause and a few cheers.

The Lady Ga Ga joke? Not quite as successful:
A few moments later, as Pawlenty told the College Republicans Obama had "duped" their generation in the 2008 election, Pawlenty made a cultural reference to another entertainer with whom the crowd is quite familiar. "What the younger voters have figured out this is really a broken relationship. He made soaring promises, set grand expectations. He's broken those promises. He's failed to fulfill the expectations. If this was a Lady Gaga song, the relationship between the youth vote and Barack Obama would be 'Bad Romance,'" Pawlenty said, as the crowd began to react, a bit more slowly than they had at the Sheen reference. "You know what I'm talking about." The crowd applauded.
Given the trajectory of Charlie Sheen's career, perhaps comparing the GOP in 2012 to Sheen's style of "winning" may be a bit risky?
Have a tip we should know? tips@mediaite.com