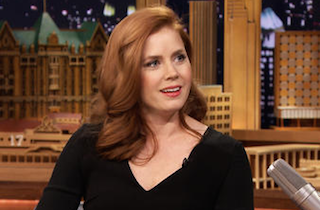 Aside from a handful of outspoken actors on Twitter, many major celebrities have been hesitant to speak out publicly about the cyber-attack and subsequent threats against Sony Pictures and their now-indefinitely-canceled film The Interview. And apparently, this past week's Saturday Night Live host Amy Adams is no exception.
Deadline reported Monday that Adams was scheduled to stick around New York for an interview on the Today Show but ended up getting booted from the show after she indicated she would prefer not to talk about the situation with Sony. The actress became part of the story when it was revealed through hacked emails that she and American Hustle co-star Jennifer Lawrence made less than their male counterparts on that film.
Adams was reportedly given a four-minute segment and expressed her desire to focus on her new film Big Eyes, but was prepared to "explain away" the Sony scandal as something she did not have anything to say about. But, just before she was about to go on camera, Today bumped her.
Reached for comment, The Weinstein Company, which produced Big Eyes said:
"We firmly stand behind Amy Adams. We've been lucky enough to have had her talents grace several of our films. We are certain her fellow actors and directors would all agree, she is nothing but the consummate professional both on and off set. Amy decided to speak up for herself and express her disappointment that Today would feel the need to ask her a question she did not feel comfortable , and rather than respect her opinion or continue the discussion, the reaction was to pull her appearance from the show."
For their part, NBC had this to say to Deadline:
"As a news program, the Today show doesn't allow guests to dictate restrictions on interviews. In this case, after hours of discussion we felt uncomfortable with the demands being made and we determined the best course of action for all parties involved was to cancel the interview."
So, agree to disagree?
[Photo via screengrab]
— —
>> Follow Matt Wilstein (@TheMattWilstein) on Twitter
Have a tip we should know? tips@mediaite.com