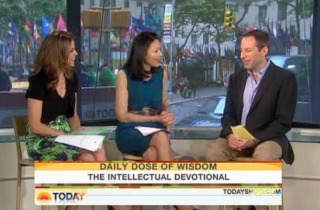 Last week NBC announced that it had brought in Noah Oppenheim to run the Today Show after its previous chief, Jamie Horowitz, lasted only 10 weeks on the job.
With this new hire NBC turns to a familiar name, as Oppenheim had previously been the show's senior producer from 2005 until 2008. After that he bolted TV to head up development for L.A.-based TV/film production studio Reveille, and then became a screenwriter.
When conservative media critics point to the "liberal media," that often includes morning television like NBC's Today Show. But here's an interesting fact that may or may not help change that: Oppenheim has a serious background in conservative media.
Before his previous stint with Today, Oppenheim ran the "extraordinarily conservative" Scarborough Country on MSNBC, years before Joe Scarborough became a more centrist-type punching bag for right-wing media.
Further adding to Oppenheim's conservative credentials is a 2004 report from the New York Observer that alleged he left MSNBC (and presumably moved over to NBC daytime) after network bigwigs complained about an article he wrote for the Bush White House's favorite magazine, The Weekly Standard, bashing Iraq War reporters as hoping for failure:
In fact, Noah Oppenheim, the producer of the Hardball series, a self-identified neoconservative and onetime producer for Scarborough Country, wrote an article for The Weekly Standard upon his return from his three weeks in Iraq, asserting that reporters rarely got out of the so-called Green Zone in Baghdad, and that they cribbed wire reports. Mr. Oppenheim left MSNBC when Nightly News executive producer Steve Capus and anchor Tom Brokaw complained openly that the article was unseemly coming from a NBC-affiliated news producer.
That wasn't the first time Oppenheim had written for the neoconservative publication. In the years before that piece, the TV vet reviewed a Dinesh D'Souza book, took on affirmative action at Harvard University (his alma mater), and critiqued the "ambivalence" of Muslim-American groups in fighting radical Islamism five months after the 9/11 attacks.
Another piece took a deep-dive into Rev. Jesse Jackson's "shakedowns" of large corporations, forcing them to deal with his preferred business partners under the "guise of civil rights activism."
And a 2002 article for the magazine defended then-President of Harvard Larry Summers in the wake of his public fight with Professor Cornel West, suggesting the school's African-American Studies department and related interests were "really in charge" of the school.
Whether or not you agree with his politics, all of the above positions are ones you'd not often find a Today Show SVP taking in public. At least not without ensuing controversy.
So could Oppenheim's hiring mean even the subtlest changes in political tone for the show? Possibly. But the more obvious changes he institutes will likely focus squarely on rehabbing a once-storied morning show that continues to fall behind ABC's Good Morning America.
— —
>> Follow Andrew Kirell (@AndrewKirell) on Twitter
Have a tip we should know? tips@mediaite.com