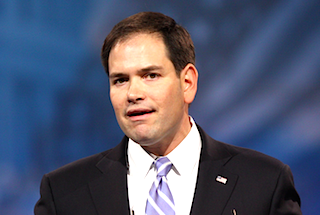 On Monday, the White House announced that recently freed Cuba prisoner Alan Gross will be among First Lady Michelle Obama's official guests at tomorrow night's State of the Union address. Now, Senator Marco Rubio (R-FL) has countered that move by inviting Rosa María Payá, the daughter of Cuban activist Oswaldo Payá and a critic of the Obama Administration's decision to normalize relations with that country to join him at the Capitol for the speech.
"All Oswaldo Payá wanted was a better future for Cuba and the Cuban people, and the Castro regime assassinated him for it," Rubio said in a statement Monday. "I'm honored that Rosa María Payá will join us in the Capitol on Tuesday evening as the president addresses our nation. Since her father's murder, Rosa María has honored his legacy by continuing to advocate for a free and democratic Cuba and also fighting to bring his murderers to justice. In 2013, Rosa María visited the Senate and met with several senators who pledged their assistance in her search for justice."
Oswaldo Payá and fellow activist Harold Cepero died in a 2012 car crash that was alleged to have been orchestrated by the Castro regime in Cuba. At the time, Rubio was among the Cuban-Americans and others who called for an independent investigation into their deaths.
"While I disagree with the president's new Cuba policy, I hope Rosa María Payá's presence on Tuesday night will at least remind him that her father's murderers have not been brought to justice, and that the U.S. is now, in fact, sitting at the table with them," the senator added. "I hope the administration takes the opportunity to demand reforms and changes in Cuban behavior before relations are normalized. At the very least, President Obama and his administration should push the Cuban regime to allow an impartial, third party investigation into the circumstances surrounding the death of Oswaldo and Harold."
Following Obama's decision to normalize relations with Cuba, Rosa María Payá penned an open letter to President Barack Obama that was published by the Washington Post.
"We agree, Mr. President, that you cannot 'keep doing the same thing for over five decades and expect different results,'" she wrote, quoting Obama's words. "But there is nothing new in treating as 'normal' the illegitimate government in Havana, which has never been elected by its citizens and has been practicing state murder with impunity. That strategy already has been done by all the other governments without positive consequences for democracy in my country."
[Photo via Gage Skidmore/Flickr]
— —
>> Follow Matt Wilstein (@TheMattWilstein) on Twitter
Have a tip we should know? tips@mediaite.com