Touré And S.E. Cupp Battle Over Feminism, Privacy, And Creepy Guys Who 'Leer' At Women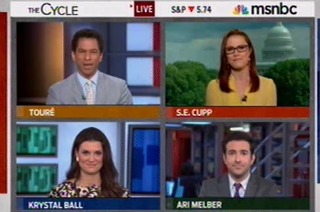 The co-hosts of The Cycle engaged in a pointed back and forth on Thursday after S.E. Cupp cited the work of a feminist artist to justify her trepidation about how technology has made it easier for women to be photographed without their knowledge. Co-host Touré, noting that Cupp had been vocally critical of what she described as overreach by feminists in the past, found it odd that Cupp would cite a feminist to make her point. The hosts battled over whether Cupp was being consistent by invoking feminism to support her concerns about privacy rights.

"Whenever you have a major technological advance, you have a change in society," Touré began. "And you also have a segment of society that says, 'this is the fundamental change that will fundamentally ruin society.'"
Touré said that his co-host, Ari Melber, represented that reactionary wing of society that is concerned with how privacy can be invaded by Google Glass.
"Wearable computing is coming. It will be positive in many results," he continued.
RELATED: S.E. Cupp Mocks Feminists For Freaking Out At Princeton Grad's Advice To Women To Find A Spouse At School
"I'm sure there's going to be a lot of good to come out of them but, I've got to say, as a woman, there's a real, like, leering quality to these that makes me really uncomfortable," Cupp said of Google Glass. She cited a 1980s-era feminist artist whose famous work shed light on how women can be made uncomfortable by the male gaze.
"I think there's this impression that most women find it flattering when they're ogled, but I've got to tell you, most of the time it feels really uncomfortable and degrading," Cupp continued. "I can't imagine how violating it will feel to walk down the street and know that some dude can take a picture of you with his eye, essentially."
"Are you quoting a feminist? Aren't you anti-feminist?" Touré asked.
"I'm quoting an artist," Cupp clarified.
"It's just a weird confluence that you're using a feminist to make your point," Touré shot back.
"S.E., today Touré's putting people in boxes," Melber interjected.
"She put herself in that box repeatedly, that she's anti-feminist," Touré countered.
"Let's maybe argue on the merits of S.E.'s point, rather than who she's actually citing," said Krystal Ball.
Watch the clip below via MSNBC:
> >Follow Noah Rothman (@NoahCRothman) on Twitter
Have a tip we should know? tips@mediaite.com