Trayvon Martin's Parents On Zimmerman Interview: 'Heartless' To Say Trayvon's Death Was God's Plan
Trayvon Martin's Parents: 'Heartless' To Say Trayvon's Death Was God's Plan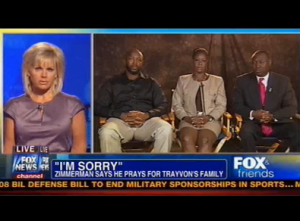 Trayvon Martin's parents and their lawyer, Benjamin Crump, appeared on Fox & Friends Thursday morning to offer reaction to George Zimmerman's Hannity interview from the night before. Host Gretchen Carlson started off by offering her condolences to Martin's parents.
The family shared that they do not find Zimmerman's apology to be sincere, explaining that Zimmerman "had ample enough time to apologize to us for taking the life of our son before the first arrest, and to come and try to publicly apologize now, he's trying to save face."
RELATED: George Zimmerman Discusses Confrontation With Trayvon Martin On Hannity
Regarding Zimmerman's comment that it had been "God's plan" for that night to have played out as it had, with their son ending up dead, Martin's parents responded that "I don't understand what he was thinking [when he said ] it was God's plan that he murdered our child. And I really don't understand what god he worships because it is not the same God I worship."
"Why would God have him to kill an unarmed teenager? I mean, it just makes no sense," said Martin's mother. "What plan is it? I mean, that's just heartless to say that that was God's plan that he took our child's life," added her husband.
Carlson then showed a clip of Zimmerman recounting that Martin had punched him and based his head against a concrete sidewalk during their alleged altercation, asking Crump whether this could be considered grounds for self-defense. The family's lawyer noted that this was Zimmerman's version of events, and that Martin isn't here to give us his side of the story.
He also said that Zimmerman's story has been full of inconsistencies (the "running versus skipping" portion of the interview was noted later) that work to undermine his credibility.
When Carlson asked Trayvon's mother if she could forgive Zimmerman, she responded that her son's death is still so recent that she can't "stomach" the thought at this juncture, but added that might change as time passes.
Have a look at the interview, via Fox News:
Have a tip we should know? tips@mediaite.com