Trevor Noah: People Voted for Donald Trump Based on 'Whiteness,' 'Misogyny'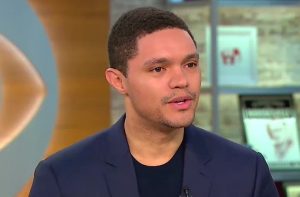 Comedy Central Daily Show host Trevor Noah said on CBS's This Morning Monday that his takeaway from the 2016 election was that people voted for Donald Trump over Hillary Clinton because of racism and sexism.
"The biggest thing I've seen is America is not as immune to the ills of the world as I thought it was. You know, I think a lot of the world is disappointed in America because America is that beacon, is that light house, a bastion of democracy," the South Africa native said.
"I think it's sad we are now living in a place where we are normalizing and moving on so quickly from two glaring truths that were part of what happened in the election," Noah continued. He acknowledged the legitimate complaints from white working class voters, but argued that "there are people who put two things above everything else, and that is whiteness and that is also sex and misogyny."
"People talk about the glass ceiling, but what people don't realize is you can't see it because it's see-through. And misogyny has very quickly gone out of the conversation where even as a man, I have to come grips with the facts that it is a tough world to be in where there is an invisible monster that keeps you down," Noah said.
"Hillary faced it throughout her life," he argued. "I keep trying to think of that and, unfortunately, I have to use the metric in my head where I say 'if she were a man.' And the fact that I even have to say that means there is a problem."
Watch above, via CBS.
[Image via screengrab]
—
>>Follow Alex Griswold (@HashtagGriswold) on Twitter
Have a tip we should know? tips@mediaite.com