Trump Calls Hannity Nightly… And Other Stunning Revelations From NY Mag's Report on the Fox News White House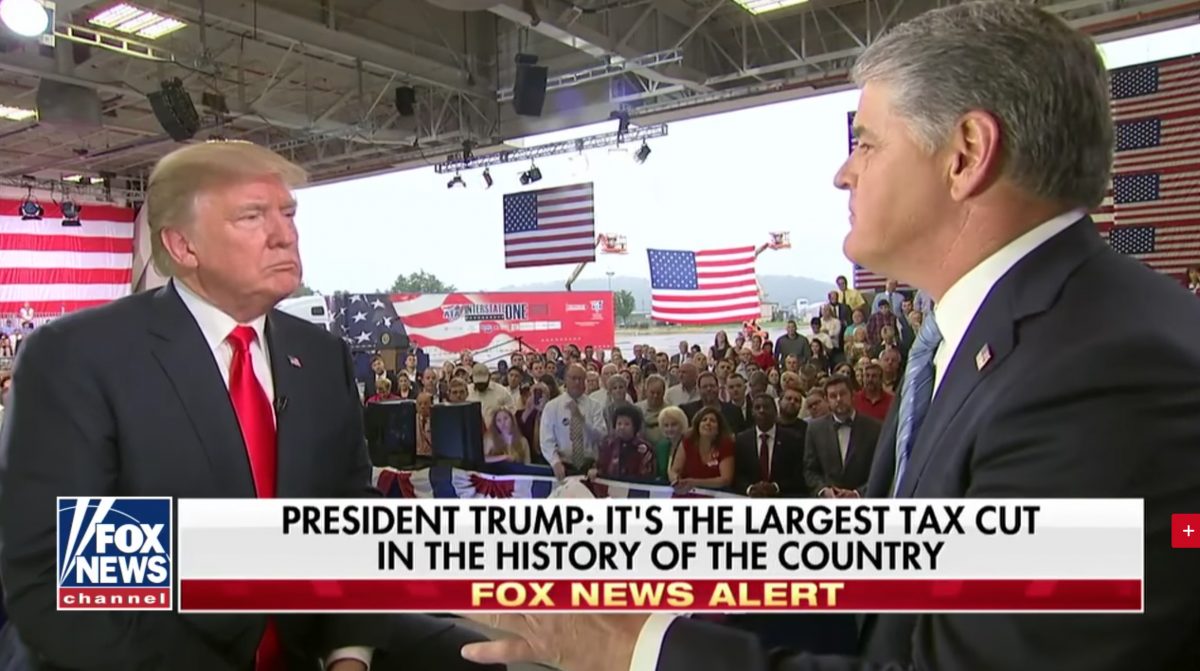 New York magazine's Olivia Nuzzi dropped a massive report Sunday night peeling back the curtain on President Donald Trump's relationship with Fox News host Sean Hannity, which involves nightly calls to dish on the Russia investigation and talk of the cable news competition.
But the juicy report contains more than just news on Trump and Hannity's ties, and goes in-depth into the president's symbiotic relationship for Fox News, as well as the depths White House officials have gone to wrangle his cable news habits.
Here are the most stunning revelations from the NY Mag report:
1. Trump and Hannity speak most weeknights after the Fox News host's show
Trump, as it has been reported in the past, does not spend his nights with wife Melania. Instead, according to Nuzzi's report, he regularly takes calls from Hannity after the primetime giant wraps up his 10 p.m. show on Fox News,
That chat, which starts with casual small talk, is one of multiple calls the pair have some days, per Nuzzi. "I just hung up with Hannity," Trump will often announce to White House staff.
Their conversations range from talks of the Russia "witch hunt" to dishing about ratings and other cable news hosts. There are also a lot of expletives, specifically: "fuck … fucking … fucked … fucker."
2. Sean Spicer and Reince Priebus hatched a plan to get Trump off of Morning Joe and New Day, onto a strict diet of Fox & Friends… and it worked
As has been catalogued in countless reports, demonstrated by Trump tweets, and reflected by the hosts-cum-paramours of Morning Joe, Trump's relationship with a MSNBC's Joe & Mika has been a tumultuous one. The three went from pals to foes in the blink of an inauguration, and the hosts took some of Trump's most bitter Twitter vitriol… until all of a sudden, he stopped watching their show.
According to Nuzzi's report, that's thanks to former White House aides Sean Spicer and Reince Priebus, who worried that Trump's morning schedule — Morning Joe first thing at 6 a.m. for an hour, followed by a few segments of New Day, and then on to Fox & Friends to cool his blood — was making him go nuts.
Per Nuzzi:
With the hope of calming him down, then–chief of staff Reince Priebus and then–press secretary Sean Spicer began a subtle campaign. "It got to the point that they were just like, 'We need to get him off these channels and onto Fox & Friends or else we're going to be chasing down this crazy-train bullshit from MSNBC and CNN all day,' " one former White House official said.

Like all other ideas, this had the highest chance of implementation if Trump believed he'd thought of it on his own. Priebus and Spicer worked talking points about the network's high ratings and importance to his base of supporters into conversation until, eventually, it stuck, so that the president's television consumption is today what the current White House official called "mainly a complete dosage of Fox." The former official added, "Trump's someone who loves praise more than he likes hate-watching Morning Joe."
We can all empathize with that.
3. But! White House officials think Trump's Fox News diet is just as problematic
"Sometimes on Fox, a lot of stories are embellished, and they don't necessarily cover the big news stories of the day," one current White House official told Nuzzi. "When they cover the smaller stories, if that gets the president riled up, then that becomes an issue. Whenever he tweets, all of us do a mad dash or mad scramble to find out as much information about that random topic as possible. We're used to it in a lot of ways, so it's part of our morning routine."
Trump getting riled up by his cable news habit will strike as obvious to anyone who follows the correlation between Fox News segments and the president's tweets.
In the words of one former White House official, it's a "fucked-up feedback loop," putting Trump "in a weird headspace. What ends up happening is Judge Jeanine or Hannity fill him up with a bunch of crazy shit, and everyone on staff has to go and knock down all the fucking fires they started."
4. Hannity vapes hard, drinks Coors Light and White Russians, and dines at Great Neck's iteration of Peter Luger's
The piece has some interesting revelations into Hannity's social life, aside from word of his vape pen of choice (he Njoys):
He drinks White Russians or Coors Lite or vodka with Sprite Zero or, if he's at Del Frisco's, a frozen concoction of vodka and pineapple juice that they describe as a martini (it is not). He cooks for himself, and is especially proud of a dish he calls "turkey chop" — a "Hannity special."
And when he's not vaping on the set of his Fox News show, he can be found at the Peter Luger's steakhouse — the one in Great Neck, Long Island.
5. Hannity has (allegedly!!) privately expressed an interest in running for office
Hannity's end goal, as Nuzzi puts it, is retirement on a "farm full of dogs." But he has also "expressed openness to a different kind of retirement, far removed from a dog farm: running for office, something he hadn't considered in the past."
Though before you go ahead and print your Hannity 2024 signs, longtime producer of Hannity's radio show and confidante Lynda McLaughlin scoffed at the idea he has an interest in politics:
McLaughlin burst out laughing when I asked about Hannity 2024; she doesn't believe he has any interest. But on the show, the two of them joke often, lately, about how Hannity might as well run, since he's "being vetted more than Obama."
Read the full report here.
[image via screengrab]
—
Follow Aidan McLaughlin (@aidnmclaughlin) on Twitter
Have a tip we should know? tips@mediaite.com
Aidan McLaughlin - Editor in Chief