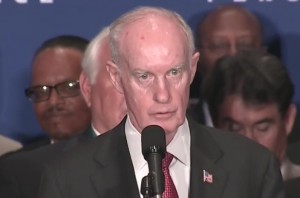 Before making his remarks Friday that finally repudiated his past birtherism, Donald Trump was introduced by a retired general famous for his own birtherism.
As Mediaite reported back in 2010, retired Lt. General Thomas McInerney filed a legal affidavit defending a soldier who refused to obey Barack Obama's orders, claiming he was not a legitimate president until he presented his birth certificate. McInerney, then a Fox News military analyst, argued that birtherism was "serious and widely held."
"In refusing to obey orders as to doubts as to their legality, Lt. Col. Lakin has acted exactly as proper training dictates. He's demonstrating the courage of his convictions and his bravery," he argued.
McInerney was one of the veterans who appeared on-stage with Trump Friday to introduce him. "We, all warriors here, are supporting Mr. Trump because he has the only budget, the only economic plan that can rebuild the military…" he said. "To make it very clear to the American people, there is only one candidate that can rebuild the United States military and make us great again."
After the event, NBC's Benjy Sarlin reached out to McInerney to ask whether his views on Obama's birthpalce had changed. He appeared to sarcastically suggest that he still had doubts.
Just talked to McInerney. Said Obama born in US. Why? "Because he said he was. I mean he's never told a lie has he?" https://t.co/tPRMJcVOgX

— Benjy Sarlin (@BenjySarlin) September 16, 2016
Watch above via MSNBC.
[Image via screengrab]
——
>>Follow Alex Griswold (@HashtagGriswold) on Twitter
Have a tip we should know? tips@mediaite.com