Trump Pummeled on Twitter for Ending Shutdown With No Money for Wall: He 'Ceded His Presidency' to Pelosi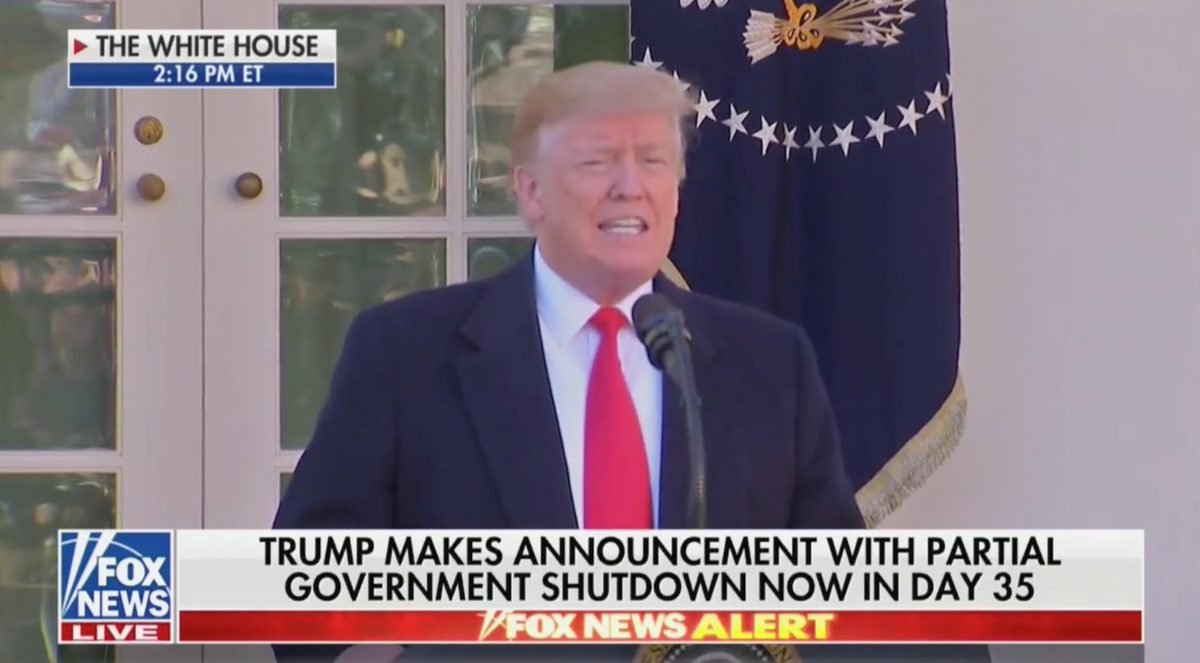 The Twitterverse watched Donald Trump's speech from the White House Rose Garden on Friday, and the broad online consensus is that he just lost this battle for his border wall.
The president confirmed that he will sign a continuing resolution that will temporarily re-open the government and end the current shutdown, even though he did not secure a federal funding down payment for his southern barricade.
Since the government shutdown was the longest in American history and caused a plethora of national outrage, political observers were naturally going to be curious to see if the reports were true that Trump was about to back down on his position. Now that he has, there's an avalanche of online commentators saying he just effecivetly caved in to House Speaker Nancy Pelosi (D-CA) and Senate Minority Leader Chuck Schumer (D-NY).
Trump caved and called it a deal.

— John Dingell (@JohnDingell) January 25, 2019
This is such a humiliating end for Trump's gambit. There's nothing here that was not on the table 35 days ago. Huge defeat. And once the government reopens, he has literally no leverage to try this again.

— Glenn Kessler (@GlennKesslerWP) January 25, 2019
A former White House official texts me, unsolicited: "Trump looks pathetic…he just ceded his presidency to Nancy Pelosi."

— Jonathan Swan (@jonathanvswan) January 25, 2019
This is a lot of words for "I lost."

— Matt Fuller (@MEPFuller) January 25, 2019
Excellent question. So much #winning https://t.co/AkkWTPlS8I

— Charlie Sykes (@SykesCharlie) January 25, 2019
#TheArtOfTheCave https://t.co/t7jI9Fw8hR

— Kurt Bardella (@kurtbardella) January 25, 2019
Question for the President: How can you cast this as anything other than a wasted five weeks of (financial) pain for Americans caused by you?

— Peter Alexander (@PeterAlexander) January 25, 2019
— —
>> Follow Ken Meyer (@KenMeyer91) on Twitter
Have a tip we should know? tips@mediaite.com