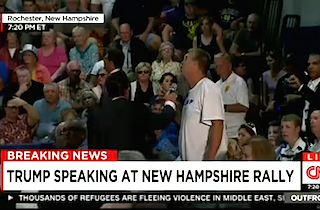 Donald Trump decided to do something a little different at his post-debate campaign rally in New Hampshire Thursday night, taking questions from the crowd in an extended, off-the-cuff Q&A session. And the first question of the night was just as disastrous as you might have imagined.
"I like this guy," Trump said, pointing to the first questioner.
"We have a problem in this country called Muslims," the man said right off the bat. "We know our current president is one. You know he's not even an American."
"We need this question?" Trump said, laughing.
"But anyway," the man continued, "we have training camps growing where they want to kill us. That's my question: When can we get rid of them?"
Trump, who made his political name by leading the so-called "birther" movement to which this man clearly subscribes, did not clarify that Obama is a Christian American. Instead, he simply said, "We're going to be looking at a lot of different things, and you know, a lot of people are saying that and a lot of people are saying that bad things are happening and we're going to be looking at that and plenty of other things."
The moment was reminiscent of the 2008 town hall in which a woman stood up and called then-senator Obama an "Arab." John McCain drew boos when he corrected her, saying, "I have to tell you. Sen. Obama is a decent person and a person you don't have to be scared of as president of the United States." He did not explain why being an Arab and a "decent person" were mutually exclusive in his case.
UPDATE- 9:09 pm EST: The Trump camp has responded:
Trump stmt to WaPo: "The media wants to make this issue about Obama. The bigger issue is that Obama is waging a war against Christians…"

— Robert Costa (@costareports) September 18, 2015
More Trump: "… Christians need support in this country. Their religious liberty is at stake."

— Robert Costa (@costareports) September 18, 2015
Watch video below, via CNN:
[Photo via screengrab]
— —
>> Follow Matt Wilstein (@TheMattWilstein) on Twitter
Have a tip we should know? tips@mediaite.com