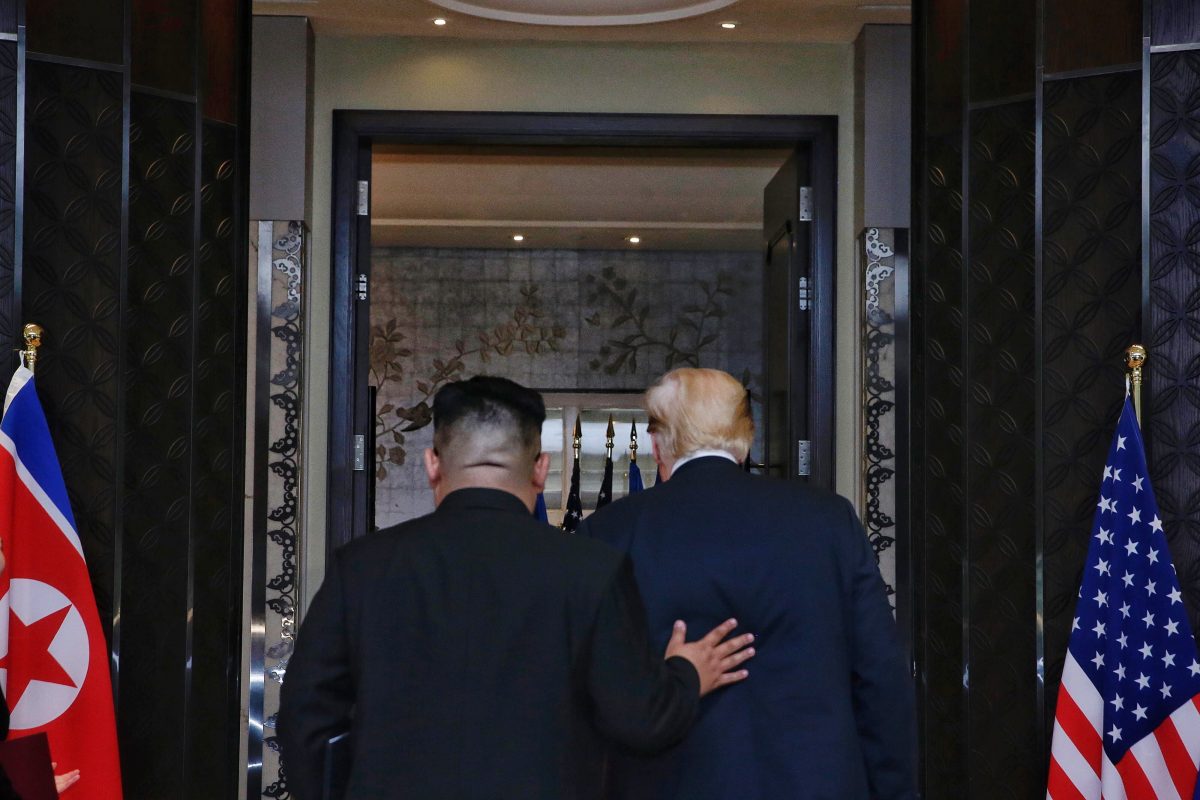 President Donald Trump departed the G7 conference in Canada on Sunday and unleashed a torrent of missives at allies, including Canadian Prime Minister Justin Trudeau and French President Emmanuel Macron.
When he arrived in Singapore to meet with North Korean dictator Kim Jong Un, he struck a far more jovial tone.
The shift from contentious acrimony leveled against U.S. allies at the G7 to giddy praise of Kim in Singapore did not go unnoticed: Trump was pressed on his attitude in his press conference after meeting with Kim, as well as in his ABC interview with George Stephanopoulos. But he provided few answers, instead doubling down on criticism of the Canadian and praise of the dictator.
Trump's previous insults lobbed against Kim, which he now claims were for show, likely explain this new friendly posture as a bid to win over the leader's favor and entice nuclear concessions.
A previous president would have never survived the media battering prompted by praising a North Korean dictator so unequivocally — whether in the pursuit of a denuclearization deal or not — but Trump is a different beast. His supporters shed their standards a while ago, and his detractors' protests will drown in a frenzy of criticism.
For posterity, however, here's a handy timeline of Trump's praise of Kim Jong Un in the last 24 hours, just a few months after the "dotard" dubbed his North Korean counterpart "Little Rocket Man."
Monday, 9 p.m. EDT: The first meeting
Trump tells reporters in a brief press spray: "We will have a terrific relationship, I have no doubt."
Tuesday, 1:30 a.m. EDT: The signing
Trump says he's "honored" to sign a denuclearization agreement with Kim, and hails the leader's negotiation skills — the president's highest form of praise.
"A very worthy, smart negotiator, absolutely," Trump told reporters after signing the document alongside Kim. "We had a terrific day and we learned a lot about each other and our countries."
"I learned he's a very talented man. I also learned that he loves his country very much."
Tuesday, 4 a.m. EDT: The press conference
Trump was asked about his remarks that Kim is "very talented" in his press conference with reporters. He doubled down.
"Well, he is very talented," Trump said. "Anyone who takes over a situation like he did at 26 years of age and is able to run it and run it tough. I don't say it was nice."
"Very few people at that age – you can take one out of ten thousand probably couldn't do it."
Tuesday, 6 a.m. EDT: The ABC Interview
Trump, appearing on ABC News after the summit, said this of Kim, completely unprompted: "His country does love him. His people, you see the fervor. They have a great fervor."
(Kim is the leader of a country that executes people for not expressing their enthusiasm for the regime, it should be pointed out.)
"I think he trusts me, and I trust him," Trump said, speaking of the "special bond" between himself and Kim.
Tuesday, 7:45 a.m. EDT: The Greta interview
Trump kept up the marathon love-fest in an insanely fawning interview with Greta Van Susteran of VOA.
"What surprised you about Kim Jong Un?" she asked.
Trump's reply: "Really, he's got a great personality. He's a funny guy, he's very smart, he's a great negotiator. He loves his people, not that I'm surprised by that, but he loves his people."
Eyes on Twitter for more gooey praise.
[Photo via Kevin Lim/Getty Images]
—
Follow Aidan McLaughlin (@aidnmclaughlin) on Twitter
Have a tip we should know? tips@mediaite.com
Aidan McLaughlin - Editor in Chief