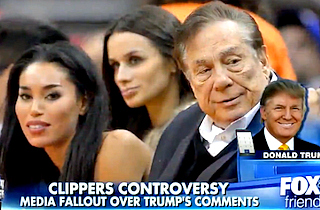 On his weekly phone-in to Fox & Friends last week, Donald Trump called V. Stiviano, who recorded the comments that made Los Angeles Clippers Donald Sterling a national pariah last week, "the girlfriend from hell" and alleged that she had set Sterling up. In the midst of near-universal condemnation of Sterling, Trump's criticism of his mistress got wide play.

This coverage appears to have harshed Trump's mellow. This morning on Elisabeth Hasselbeck: Between Two Ferns, Trump unloaded on the "dishonest media," which he accused of twisting his words to make it sound as though he was defending Sterling.
"So reporters are really dishonest, especially political reporters," Trump said. "I've never seen anything like this. I've been in politics sort of all my life. But it's interesting as it came out that I was a conservative person, the way the press goes after you is disgusting."
"I knocked the hell out of Donald Sterling for five minutes, said what a bad guy, what horrible things he said," Trump continued. "And I said, just in passing and by the way, as the girlfriend from hell, and everybody laughed — which is obviously true. I mean, this girlfriend is taping him and with very bad intentions obviously. She's bad news. But what I really did was really knock him strongly, and immediately after I said it, it was all over thousands and thousands of articles, all over the place, all over the world that, I was defending him…They used the girlfriend statement, like I was defending him by blaming the girlfriend, which was so dishonest."
Trump went on to call Huffington Post pathetic, say he had never even heard of this "Smerconish guy," and called for the reinstitution of harsh libel laws.
Watch the clip below, via Fox News:
[Image via screengrab]
——
>> Follow Evan McMurry (@evanmcmurry) on Twitter
Have a tip we should know? tips@mediaite.com