Tucker Carlson On Chris Matthews' Cries Of 'Betrayal' On Cory Booker: 'What A Stalinist!'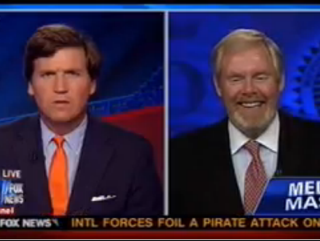 On tonight's Hannity, the weekly "Media Mash" segment with Brent Bozell (and, tonight, with Tucker Carlson) took a look at the media bias as experienced in the past week– much of it regarding the reaction of liberal commentators to Cory Booker's comments on Meet the Press last Sunday. Among the loudest against Booker was Chris Matthews, who Carlson joked was a "Stalinist" and "Obama's unpaid staffer" on cable news.

RELATED: Chris Matthews' Fiery Rant Against Cory Booker For 'Sabotage' On Obama's Bain Strategy
"Chris Matthews, the original throne sniffer," joked Carlson, playing the clip of Matthews alleging "sabotage" against the President because Booker did not think attacking Bain Capital was a viable campaign strategy. "It's not criticism, it's betrayal– should this guy be giving campaign advice from his perch on cable news?" Carlson asked. Bozell replied snidely, "Isn't liberal tolerance fun?" He noted that the problem on the left was that deviations in thought weren't tolerated, even in terms of campaign and not ideology.
"Here is the narrative, and it's going to go on until election day," Bozell explained, now discussing the books recently released attacking President Obama, "if it hurts [President Obama] in any way, it's going to be spiked." Bozell noted that "a slew of books" came out against President Bush during his reelection campaign and got plenty of coverage, but books alleging anything negative against President Obama would get buried. "You go off the reservation for a moment and you're persona non grata thereafter."
"What commands the slavish, doglike loyalty of the average working journalist?" Carlson asked, looking for a reason behind the blatant double standards. Bozell thought it was loyalty to ideology but, also, "that they were completely vested in him in 2008, and the last time a liberal wants to admit is that he is wrong."
The segment via Fox News below:

Have a tip we should know? tips@mediaite.com