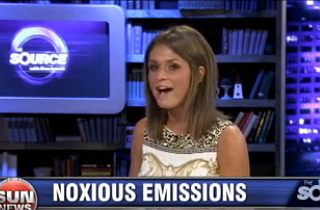 Sun News Network reporter Faith Goldy claimed that during a recent court hearing on trespassing charges for Canadian anti-oil protesters, one of the members bent over and passed gas in her face.
Sun News is a conservative-leaning Canadian news outlet that has had several negative run-ins with activists protesting the Line 9 oil pipeline in Ontario.

After host Ezra Levant showed a few of his experiences with the protestors, Goldy recounted one of her own:
"I'm just minding my own business, going about my little Twitter feed and checking my emails, when all of sudden something putrid emerges in the air. So I gaze from my phone, my own little world…and there before me was not one of the charged but one of the supporters of the Line 9 protesters' bottom — I was seated — right in front of me. And all of the onlookers had their faces within their shirts, laughing."
"So they farted in your face? That's what you are saying," Levant cleared the air.
"That is exactly what happened, Ezra," Goldy replied.
After explaining that Goldy's story prompted him to research the effects of flatulence on the environment, Levant said: "That fart is 21 times more global warming-ish than if they had burned oil instead."
Perhaps these Canadian protesters were inspired by their fictional predecessors in Terrance & Phillip: Asses on Fire, who (in)famously coined the phrase: "I fart on your face." (NSFW)
Watch below, via Sun News Network:

[h/t TheBlaze]
— —
>> Follow Andrew Kirell (@AndrewKirell) on Twitter
Have a tip we should know? tips@mediaite.com