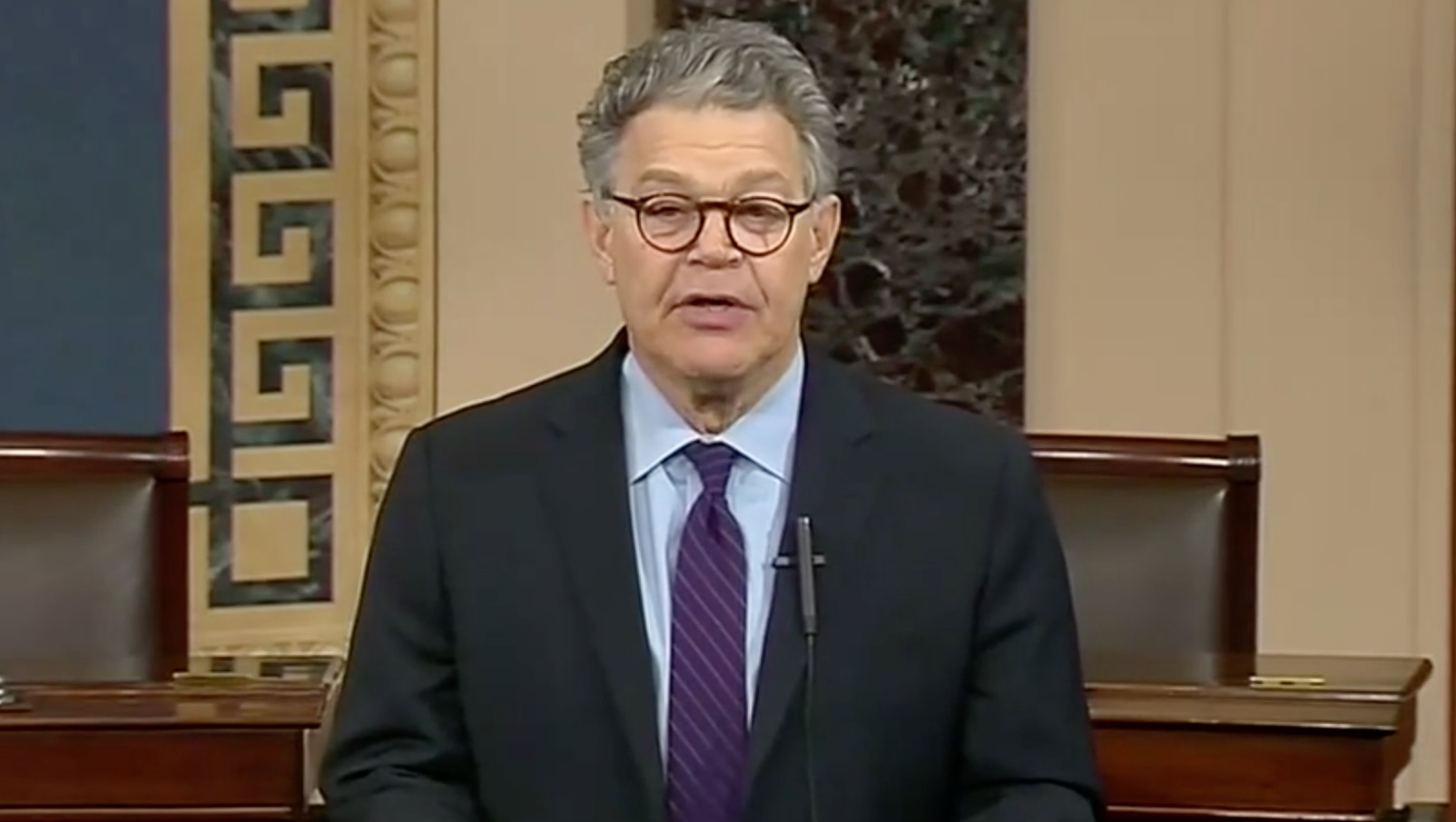 Sen. Al Franken has officially announced his resignation, following an intense day of speculation which started after many of his colleagues called on him to step aside.
This move was expected in political circles, as Franken had been repeatedly accused of sexual misconduct, though he did not admit culpability to any of these allegations during the remarks.
"This decision is not about me," he said, seeming to suggest that he was falling on his sword for the good of the state. "It's about the people of Minnesota."
He also took parting shots at President Donald Trump and Alabama Senate candidate Roy Moore, both of whom are facing their own spate of sexual misconduct allegations.
"I of all people am aware that there is some irony in the fact that I am leaving while a man who bragged on tape about his history of the sexual assault sits in the Oval Office, and a man who repeatedly preyed on young girls campaigns for the Senate with the full support of his party," he said.
Media figures on Twitter expressed a range of emotions to Franken's resignation, with many breathing a sigh of relief and others continuing to back the Minnesota Senator.
Rather than "what took you so long" we should note Democrats have acted swiftly on members credibly accused of sexual harassment. With Franken, less than a month from accusation to resignation. https://t.co/ZZOZmrn1eB

— Josh Barro (@jbarro) December 7, 2017
Q: If @alfranken is not admitting guilt, denies some accusations, remembers others differently and believes he would prevail in an ethics investigation, then why did he quit?

A: Dems threw him under the bus so they can keep beating up Trump and Moore over their allegations.

— Larry Elder (@larryelder) December 7, 2017
That's that.

To recap: Franken admits to no wrongdoing. Says we must "believe women," then disputes the allegations brought against him. He also whatabouts the GOP's many sexual misconduct problems.

Takeaway: Innocent but resigning anyway. Clearly angry. Defiant.

— Ruthless T. Firefly (@BecketAdams) December 7, 2017
Al Franken resigns. Finally, we are free of all sexual predators in the U.S. government.

— Kumail Nanjiani (@kumailn) December 7, 2017
Who advised @SenFranken that giving such a self-indulgent, self-pitying, bitter, oblivious "ciao" was a good idea?

— Monica Crowley (@MonicaCrowley) December 7, 2017
Franken will resign at the end of the year. Minnesota Governor Mark Dayton has yet to announce who will serve in his place until the Nov. 2018 special election.
[image via screenshot]
—
Follow Lawrence Bonk (@sidescrollers) on Twitter
Have a tip we should know? tips@mediaite.com