UK MPs Mock Donald Trump, Suggest He Name Hillary Clinton for U.S. Ambassador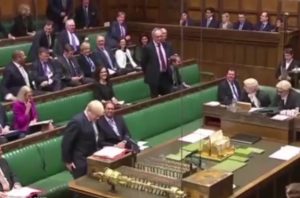 Members of the UK House of Commons mocked Republican president-elect Donald Trump during question time Monday after he tried to dictate who Prime Minister Theresa May should select as ambassador to the U.S.
Trump tweeted out Monday that he wanted May to select Nigel Farage, despite the fact that Farage's UK Independence Party are rivals to May's Conservative Party.
Many people would like to see @Nigel_Farage represent Great Britain as their Ambassador to the United States. He would do a great job!

— Donald J. Trump (@realDonaldTrump) November 22, 2016
Trump's suggestion was of course a rather large breach in protocol. Foreign leaders typically have no input in whom other countries select to serve as ambassadors.
British MPs responded to Trump's tweet with some cheek of their own. "Although there is no vacancy, would the foreign secretary think it extremely generous of Donald Trump to suggest who should be our ambassador?" Sir Simon Burns asked Foreign Secretary Boris Johnson to guffaws.
"And in that measure of fraternity, might he suggest that the best person to fill the vacancy of the ambassador to the United Kingdom next year would be Hillary Rodham Clinton?" Burns asked to even louder laughter.
Johnson played along, saying that alas, the position was already filled. "As the House knows full well, we have a first rate ambassador in Washington," Johnson said ("Here here!" the assembly responded Britishly), "doing a very good job of relating both with the present administration and with the administration-to-be, and there is no vacancy for that position."
Labour MP David Winnick had his own puckish suggestion, saying that Hamilton actor Brandon Victor Dixon could also serve in the role.
Watch above, via The Mirror.
[Image via screengrab]
—
>>Follow Alex Griswold (@HashtagGriswold) on Twitter
Have a tip we should know? tips@mediaite.com