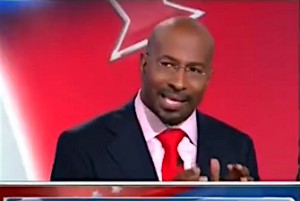 Minutes after former Secretary of State Hillary Clinton was declared the winner of the South Carolina Democratic primary, Bernie Sanders supporters were already spinning beautiful pearls of spin, most notably former Obama green jobs czar Van Jones. According to Jones, the possibly "epic" defeat in the state isn't Bernie's fault, it's because the Black Left is too busy protesting, and not busy enough signing up voters:
This is not just a verdict, this defeat, and it may turn out to be an epic defeat with Bernie Sanders with the black vote. It's not just a judgment on Bernie Sanders. It is a judgment on the black left. We often make the mistake of seeing the black vote is as monolithic. There is a left, a middle, and a right. And the black left came out and tried. Danny Glover came out, Spike Lee came out, Harry Belafonte came out, and failed. Why? Because the character of the black left is an anti-electoral left. It loves to protest, it does not love to sign up voters. This is just the reality. what you are now seeing is the black left is up against a real challenge. Can it produce votes? Right now it can't. That is not just Bernie's fault.
Is it really, though, a judgment on the black left's ability to sign up voters? If by the black left, Jones means black voters who are far enough to the left of Barack Obama to form a voting block, and if Barack Obama has a consistent approval rating with black voters pf around 90%, then is the problem really that the 10% aren't signing up?
Watch the video above, via CNN.
This is an opinion piece. The views expressed in this article are those of just the author.