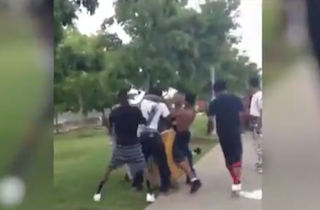 Detroit held its Motor City Pride event this past weekend, and for what was apparently the first time in the celebration's 43 year history, one attendee suffered a violent attack. Cell phone video captured several men beating up 20-year-old Christin Howard, who was walking along Detroit's Riverwalk near the festival site.
According to Howard, five to eight young men surrounded him and started making fun of his long hair and calling him homophobic slurs before eventually kicking and punching him while he lay helpless on the ground. "I just thought I was going to die," he said. "I should they were going to kill me."
"Will I go back to pride?" he asked. "I'm kind of iffy about it right now, because I don't want that incident to happen again, what if the same guys are there?"
Howard was left with a broken finger, lacerations to his face, and a bruised and bloody eye. Police are investigating the incident as a hate crime but have not yet made any arrests.
The advocacy group Equality Michigan put out the following statement:
No one should have to endure an attack like Christin Howard did this past weekend. Equality Michigan is saddened and disturbed to learn of this alleged anti-gay hate crime right outside the gates of the Motor City Pride celebration. Pride celebrations offer people in our communities an opportunity to feel safe in expressing our authentic selves. Unfortunately, this is a tragic reminder that we still have a lot of work to do to ensure that LGBT people can walk down the street without fear of violence. Violence directed at LGBT people because they are LGBT is disproportionately high in this country, and LGBT people of color are at an even higher risk of more brutal and vicious attacks. It never ceases to amaze me that others are so concerned with how we live our lives that they feel emboldened to violently attack us for simply being ourselves. Our elected officials can send a powerful message that this type of hate is not tolerated in Michigan by speaking out against attacks like these and amending Michigan's hate crimes law to include LGBT victims.

Yvonne Siferd, Esq.
Director of Victim Services, Equality Michigan
The chair of Motor City Pride delivered on as well:
I was sorrowful and troubled when I heard of Mr. Howard's attack. Motor City Pride's number one goal is to provide a safe space for our communities. Our team works closely with Tricon Security to address issues that arise at the festival. When we noticed record attendance on Saturday, we took steps to increase security. We are already taking steps to work with the Detroit Police Department to review and revise our safety and security plans for next year. We also appreciate the swift efforts of the Detroit Police Department to investigate the attack.

David Wait
Chair, Motor City Pride
Watch video below, via WXYZ:
Watch raw video of the attack below:
[Photo via screengrab]
— —
>> Follow Matt Wilstein (@TheMattWilstein) on Twitter
Have a tip we should know? tips@mediaite.com