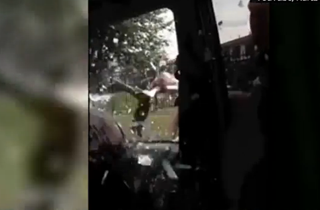 A black couple has filed a lawsuit against Indiana police after the boyfriend was brutally beaten and tazed in front of his children — after they were stopped for not wearing seatbelts.
Ashleigh Banfield showed the clip on her show, in which Lisa Mahone, who was driving with her family to visit her dying mother in a hospital, was stopped by Hammond police for not wearing a seatbelt. Police then asked her boyfriend Jamal Jones, in the passenger seat, for his license, and he admitted he didn't have his license on him but had a traffic ticket in his bag that contained his license number. However, when he went to retrieve it, the cops pulled their guns on him.
That was enough to convince Jones to stay in the car. As Fox 32 recounts:
"I don't know you and I don't know what you're going to do," an officer told Jones. He responded, "That's why I have my windows up. I'm not no harm to you right now. I got my kids in the car and you're drawing your weapon."

Jones told FOX 32 News, "So once the kids were scared, I wasn't gonna get out of the car and leave my kids in the car. He was being so aggressive."

Jones then tried to give the ticket with his ID to police, but they refused to take it. He then asked the officers if they have a supervisor on the scene…Mahone then again called 911 for a supervisor to come to the scene.

"I am scared. And the man — pulled a gun out. A gun! Why do my kids have to see that," Mahone told 911.
Minutes after she called 911, the cops then smashed the windows of her car, pulling Jones out and tazing him in front of his children, and arrested him for resisting law enforcement and refusal to aid an officer.
The couple has filed a lawsuit against the Hammond Police Department for overstepping their authority. In a statement, the department defended the actions of their officers, claiming they were "acting in the interest of officer safety and in accordance with Indiana law."
Watch below via CNN:

[Image via screenshot]
—
>> Follow Tina Nguyen (@Tina_Nguyen) on Twitter
Have a tip we should know? tips@mediaite.com