Was a Local Fox Reporter Really Fired for Saying On-Air He'd 'F*ck' Missing Woman?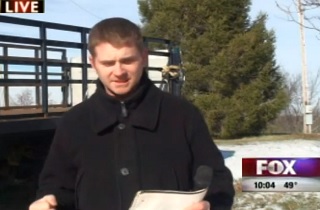 There's an irresistible news blooper being circulated, on websites like Fark and Liveleak, that shows a local Fox reporter who was supposedly fired for riffing into a live mic about a woman who went missing in Nevada on Friday. In the very NSFW clip, the reporter appears unaware he's being broadcast, and says "I don't care if she's 20, hell, I'd f*ck her, you can't say you wouldn't f*ck her. Maybe that's what I'll do when they find her, I'll go and f*ck her. F*ck her right in her p*ssy."
The shot quickly cuts away to an aghast news anchor, who says "We definitely apologize for that editing error in that story, we are going to switch gears now…"
Here is the unbelievable (NSFW) clip, via YouTube:
The clip is currently rocketing around the internet, on its way to viral immortality.
The sites posting the clip contain information about the missing woman (who was found later that day), but not about that unlucky reporter. You might also wonder why a reporter, even a local one, would be using a microphone without a station logo on it, and what appears to be an earbud from an iPod as his earpiece.
The answer to those questions is that the clip is a fairly good-looking fake. The faux "reporter" has been edited together with a real news clip, of Spokane anchor Kjerstin Ramsing apologizing for a real bit of f-bombing by reporter Linsday Nadrich. Here's (also NSFW) video of that moment, from June of 2013:
All's well that ends well, though. Nobody got fired, you got a laugh, and the missing woman was found:
A 20-year-old Kentucky woman reported missing by her family was found at the Cosmopolitan Las Vegas late Friday afternoon.

According to police, Jena Chisholm had been sleeping at the parking garage at the resort. She went willingly to the security office at the resort and told them who she was.
Have a tip we should know? tips@mediaite.com