Was NSA Leaker Snowden Hero Or Villain? Fox & Friends Asks 'Incredible Hulk' Lou Ferrigno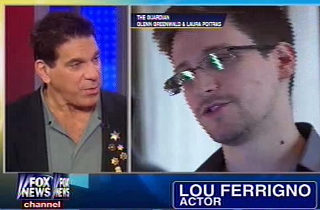 The hosts of Fox & Friends were curious this morning: Is NSA leaker Edward Snowden a "hero" or a "villain"? Who better to ask than someone who portrayed a comic book superhero in a CBS series more than 30 years ago: "The Incredible Hulk" himself, Lou Ferrigno.
"[Ferrigno] played one of the most recognizable superheroes," F&F co-host Steve Doocy introduced the actor. "We're talking about the Incredible Hulk. Lou Ferrigno's transformation put a memorable face on the conflicted character, leaving viewers wondering if he was a hero or if he was an evil villain."
"Proving truth is stranger than fiction," continued co-host Brian Kilmeade, "the emergence of the NSA leaker Edward Snowden has many wondering if his disclosure of government surveillance programs make him a patriot or a traitor?"
"So, how does The Incredible Hulk see it?" Gretchen Carlson delivered the big question. "Or how does Lou see it?"
"I would say it's a flipped coin," Ferrigno responded, noting that he himself plays a "whistleblower" in a recent film called The Liberator.
"Being a police officer myself, a deputy sheriff," he added, "I think leaking information was wrong, I think talking about the situation — I think he did commit a crime."
Doocy agreed that Snowden will face accountability for his crimes, but he also did the deed of "starting the dialogue" about "Big Brother."
"People see him as either a hero or a traitor," Ferrigno reiterated. "But like I said, it's a flipped coin."
Watch below, via Fox:
[h/t RawStory]
— —
>> Follow Andrew Kirell (@AndrewKirell) on Twitter
Have a tip we should know? tips@mediaite.com