Assad Tells Kucinich Chemical Weapons 'Not a Secret Anymore' During Wide-Ranging Fox Interview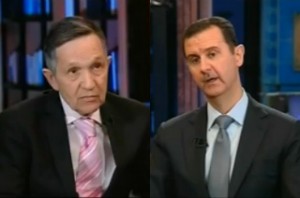 In what has to be one of the strangest and most unexpected interviews in cable news history, Fox News sent former Democratic congressman Dennis Kucinich to Syria this week to interview Bashar al-Assad about the potential peace deal that could avert military strikes by the United States in his country. During the first part of the hour-long interview, Assad admitted to Kucinich that his regime does possess chemical weapon stockpiles and affirmed his agreement to join the Chemical Weapons Convention and destroy those stockpiles.
Kucinich was joined by Fox senior foreign-affairs correspondent Greg Palkot, but as Bret Baier read in a statement introducing the interview, the former congressman "was not there in the capacity of a journalist nor was he representing Fox News in that role." Kucinich began by asking if Assad "agrees" with the plan to "secure and to eventually destroy the chemical weapons."
Assad confirmed that now that his government has agreed to join the CWC, they must also agree to get rid of the weapons that they have. He argued that his regime has always been in favor of a chemical weapons-free Middle East "because it is a very volatile region. It's always on the verge of an anarchy and war."
Kucinich did not push back on these assertions, but rather moved on to accusations from President Obama and Secretary of State John Kerry that Assad was "lying" in the past when he claimed not have chemical weapons. Assad now claimed that he never said Syria didn't have chemical weapons, but rather had refused to confirm one way or the other. "Regarding what Obama and Kerry said, I dare them to say that we said no once," he said. "We never said it. We never said no, we never said yes… This is a blatant lie."
Assad added that it's "not a secret anymore" since they joined the treaty and agreed to destroy the weapons. He also pushed back on the notion that the agreement is a "stalling tactic," but at the same time said President Obama should not "trust" him on his statement, but rather the "Syrian people should trust me."
Kucinich then asked Assad if he would be prepared to let Fox News cameras inspect his chemical weapons sites, a question that he essentially dodged by saying that something like that would have to go through various levels of permission and approval.
As for how fast the weapons could feasibly be destroyed, Assad warned of a long and complicated process. He also estimated it would cost $1 billion to accomplish, adding, "if the American administration is ready to pay those monies and to take the responsibility of bringing toxic material to the United States, why don't they do it?" That sounds like the kind of rhetorical suggestion that got Kerry in trouble just last week.
Watch video below, via Fox News:
[photo via screengrab]
— —
>> Follow Matt Wilstein (@TheMattWilstein) on Twitter
Have a tip we should know? tips@mediaite.com