WATCH: Family Guy Teaser Clip Shows Trump Making Sexualized Comment to Ivanka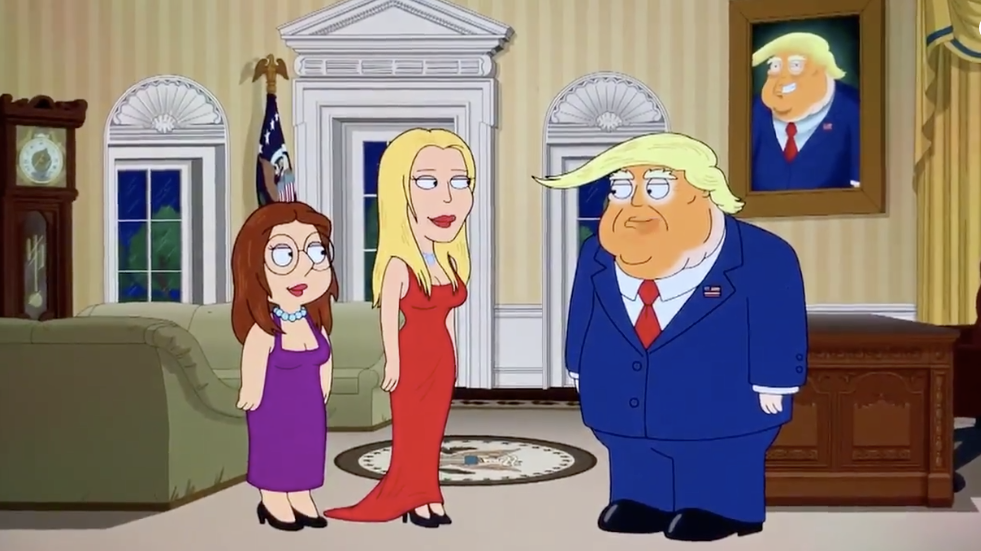 Fox's Family Guy is featuring President Donald Trump in an upcoming hourlong special, in which the president "crosses the line" with one of the show's characters, Meg Griffin.
In a teaser uploaded to Twitter by voice actor Josh Robert Thompson, the president is seen hitting on his daughter, Ivanka, as she introduces him to her new friend.
"Hey Dad, I want you to meet my new friend Meg," says character Ivanka.
"Pleased to meet you, Meg. You have a beautiful rack," says character Trump.
As Meg begins to thank the president, he interjects, "I was talking about my daughter."
Executive producer Alec Sulkin told Entertainment Weekly the two-episode hourlong special will revolve around character Peter becoming a local news commentator and getting hired as Trump's press secretary, which leads to the Griffins moving to Washington, D.C. Meg becomes friends with Ivanka, Ivanka gives Meg a makeover, and her father begins hitting on Meg too. This leads to a series of fights between the Griffins and the Trumps.
Sulkin told Entertainment Weekly his network didn't push back when the series was pitched.
"Initially there was kind of a feeling of, well, the network is going to have to think about whether we can do this whole Trump episode," he said. "And I think a couple things happened. One, they read the script and enjoyed it, and said, 'Yes, of course you can do this.' And two, something that helped is just that Trump continued to be so preposterous on a daily basis that it really made it seem like this was an episode that we had to do. It wasn't something where we were going to be besmirching of the office of the president of the United States because, you know, he's doing that for us."
Have a tip we should know? tips@mediaite.com