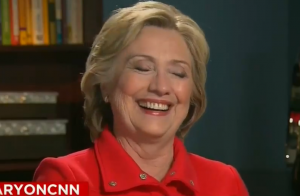 Democratic presidential candidate Hillary Clinton laughed off questions about her ongoing email scandal when CNN anchor Jake Tapper brought up the subject on Friday.
Conservative news website The Blaze and several Twitter users called Clinton's reaction everything from "inexplicable" to "totally bizarre." Considering that Tapper's question was prompted by his referencing Bernie Sanders' line about her "damn emails" at the Democratic debate on Tuesday, it actually makes complete sense.
"I know Bernie Sanders said that 'the American people are sick and tired of hearing about your damn emails,' but there are lot of people who are not," Tapper said amidst Clinton's laughter. "Including FBI officials looking into whether or not national security was compromised."
It makes sense because Sanders' controlled outburst at the Las Vegas debate was actually pretty funny. Plus, Clinton's "bizarre" behavior during this point of the interview is actually nervousness on her part, especially since Tapper didn't bring up the incident just for the jokes.
"With all your experience, why wouldn't you anticipate that over the course of four years — handling very sensitive diplomatic negotiations, overseeing military interventions and surveillance — why wouldn't you anticipate that something classified," asked Tapper, "wouldn't be emailed to you? And why wouldn't you consider that having it on your personal account with some server in Colorado might be a potential risk?"
Of course Clinton stuck to her committee-approved talking points, noting that nothing she read was marked classified (even though a lot of it was, both then and later). But the laughter totally makes sense.
If her laugh had resembled any of the horrific ones on display in a random Google image search using the key words "Hillary," "Clinton" and "laugh," however, I'd agree with its being bizarre.
[h/t The Blaze]
[Image via screengrab]
— —
>> Follow Andrew Husband (@AndrewHusband) on Twitter
Have a tip we should know? tips@mediaite.com