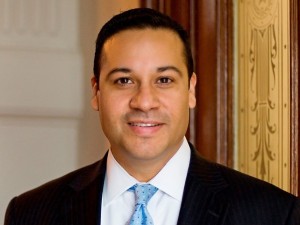 Meet Jason Villalba, the Republican state representative from Texas' 114th district in Dallas County. Rep. Villalba really wants to be like Republican presidential candidate Donald Trump, because he recently tweeted an image comparing Bernie Sanders' professed Democratic socialism to World War II-era Nazism. Unfortunately for Villalba, he'll never be anything like Trump because (a) the New York real estate mogul accused Sanders of communism, not Nazism, and (b) Trump rarely deletes his offensive tweets, unlike Villalba.
According to the Dallas Morning News, Villalba posted his original tweet during Tuesday night's Democratic debate on CNN. "The modern Democrat Party is filled with Democratic Socialists and soft socialists," he wrote. "Is this where we are in America?"
Accompanying the tweet's text was an image comparing Sanders' Democratic socialism to Adolft Hilter's Nazism.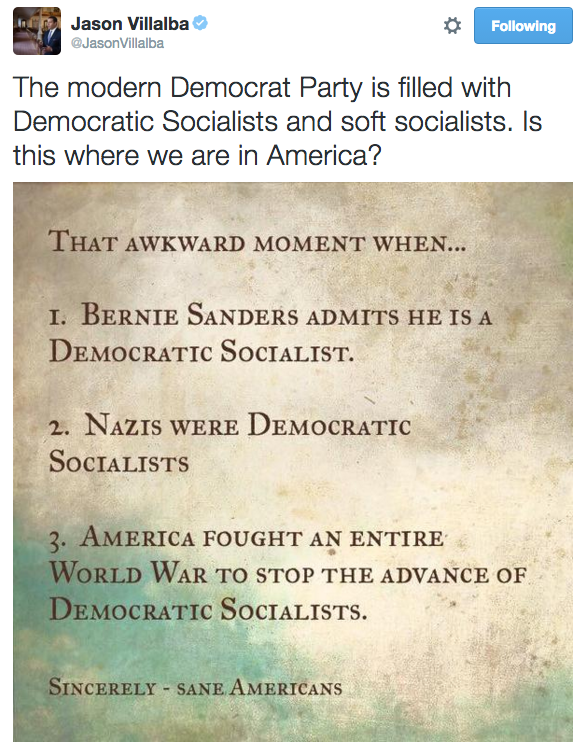 The Texas Democratic Party subsequently attacked Villalba's tweet with a social media post of their own.
Republican @JasonVillalba Compares Bernie Sanders to the Nazis http://t.co/SrYlvWcgDu #txlege pic.twitter.com/sE5TwMIsU7

— Texas Democrats (@TXDemParty) October 14, 2015
Unmoved, the 44-year-old state representative told the Dallas Morning News that he didn't compare Sanders to Nazis and called the Democratic Party's claim "ridiculous."
Villalba said the Tweet's attached image, which refers to Nazis, was just a "meme that was floating around the web." He pointed instead to the text of his Tweet, which blasted the Democratic Party for being "filled with Democratic Socialists and soft socialists."

"It's perfectly accurate," he said. "I was in no way making a comparison to the current Democratic Party and Nazis. If they want to read it that way, then that's their prerogative. That's not what the intent is."
He also defended himself on Twitter, responding regularly to reporters all over the state who were tweeting about the story.
@PatrickSvitek @BernieSanders Not accurate. I categorically deny the connection. I said he was a democratic socialist. As he has said. — Jason Villalba (@JasonVillalba) October 14, 2015
Unfortunately for Villalba, the basic logic inherent in the "meme that was floating around the web" equates Sanders with the Nazis, so it doesn't really matter that he was supposedly trying to emphasize the Democratic presidential candidate's admitted adherence to Democratic socialism.
[h/t Dallas Morning News]
[Image via Facebook, Twitter]
— —
>> Follow Andrew Husband (@AndrewHusband) on Twitter
Have a tip we should know? tips@mediaite.com