Watch: News Anchors Burst Into Uncontrollable Laughter After Awkward Interview With Ryan Lochte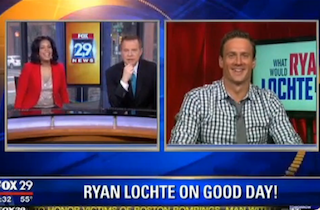 Here's a much lighter post at the end of a week that has brought us an enormous amount of frightening, upsetting news.
Olympic swimmer Ryan Lochte made an appearance on Good Day Philly to promote his reality show What Would Ryan Lochte Do? (Which is apparently a thing.) After a bit of an awkward interview, the anchors, Sheinelle Jones and Mike Jerrick, could not contain themselves, bursting out in laughter.
Lochte began the interview by noting that there's so much more to him than swimming. "I like to go and have fun, like to go dancing, hang out with my friends," he informed, as the anchor plainly replied the show was a way to "pick up women."
The anchors went on to ask what kind of pickup line would get his attention, but Lochte's only response was several seconds of silence… prompting the anchors move on. Later in the segment, he offered an anecdote about how it feels to be followed around by cameras:
"The first couple days, it was a little weird. I mean, I was brushing my teeth, and the camera was there. I was like, 'What are you guys doing?'"
Asked about whether they're allowed to follow him into the bathroom, he clarified, "I mean I guess there's like a mirror with a sink, and you have the bathroom."
Immediately after Lochte signed off, both anchors burst into uncontrollable laughter, with Jerrick asking, "Seriously, how are they gonna get enough material?" Fighting through tears and laughter, Jones eventually remarked that, well, he is cute…
(Bonus words of wisdom: If you're a man at night, you gotta be a man in the morning.)
Watch below:

(h/t NY Post)
Have a tip we should know? tips@mediaite.com