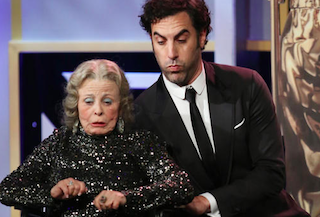 Sacha Baron Cohen knows how to create memorable award show moments. Despite being banned from the Oscar red carpet in 2012, the actor showed up in character as The Dictator's Admiral General Aladeen and proceeded to spill Kim Jong-il's "ashes" all over Ryan Seacrest. So when he accepted the Charlie Chaplin Award for Excellence in Comedy at last night's Britannia Awards, the audience had to be expecting something special.
What they got was the terrifyingly hysterical scene of Baron Cohen "accidentally" pushing an elderly woman identified as 87-year-old Grace Collington, the last living person to have appeared with Charlie Chaplin in a silent film. Actress Salma Hayek gamely introduced Collington, who presented Chaplin's "actual cane" from the film City Lights to Baron Cohen.
He then mimicked Chaplin's signature tramp walk for the delighted crowd, before tripping and falling, sending the wheelchair-bound Collington flying off the stage to her "death." The gasps from the crowd quickly turned to laughter as they realized they'd been duped.
As the Los Angeles Times reported, the only known Cullington from the silent era was a Margaret Cullington who died in 1925. It turns out that was just a very brave stuntwoman on stage with Baron Cohen.
"What a great way to go," Baron Cohen reportedly joked, before warning her relatives, "Don't try to sue me."
Watch video below, via BBC America:
UPDATE (2:20pm ET): You can now watch the extended version of the clip below, in which Baron Cohen attempts to give the woman mouth-to-mouth then announces her death on stage as a staff member carries her out of the room.
[photo via screengrab]
— —
>> Follow Matt Wilstein (@TheMattWilstein) on Twitter
Have a tip we should know? tips@mediaite.com