Watch The Mountain Dew Ad Pulled After Critics Called It 'Arguably The Most Racist Commercial In History'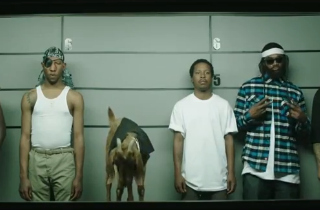 Mountain Dew undoubtedly regrets the decision to allow hip-hop artist Tyler, The Creator (leader of the breakout Odd Future collective) put together a commercial promoting the popular green soda. The company has pulled a Tyler-directed ad from its music/arts website after receiving heavy criticism, with one academic labeling it "arguably the most racist commercial in history."

The minute-long spot, which has been removed from Odd Future's YouTube channel and Mountain Dew's website, depicts a police officer goading a severely wounded white woman into picking out her attacker from a lineup of four black men (portrayed by other members of Odd Future)… and a goat (voiced by Tyler himself).
In Tyler's signature absurdist style, the goat is clearly the perpetrator, repeatedly threatening the woman to "do her up" if she "snitches" on him for sexually assaulting her. "Ya better not snitch on a playa," the goat warns as the Mountain Dew-drinking officer pushes the woman to "nail this little sucker" and pick out "the one with the doo-rag."
This particular ad is the third in series in which the goat (named "Felicia") gets into trouble with the law after getting high off the Mountain Dew drink.
The commercial's most vocal critic was Syracuse Professor Boyce Watkins, who wrote that it was arguably the "most racist commercial in history" because:
Mountain Dew has set a new low for corporate racism. Their decision to lean on well-known racial stereotypes is beyond disgusting. This doesn't even include the fact that the company has put black men on par with animals. The holocaust of mass incarceration and the glorification of violent prison culture has taken a tremendous toll on the black community. Corporations are making it cool for black men to murder one another, while gun manufacturers ensure that the streets are flooded with the weapons necessary for us to complete our own genocide.
Watkins takes credit for a reader-based campaign to have the company remove the commercial from its properties.
In a statement released Wednesday, a spokesperson for Mountain Dew said:
"We understand how this video could be perceived by some as offensive, and we apologize to those who were offended. We have removed the video from all Mountain Dew channels and have been informed that Tyler is removing it from his channels as well."
Tyler, the Creator's manager Christian Clancy released a lengthy blog post defending the concept of the ad but apologizing for any offense caused. Read that here.
Watch a controversial portion of the ad below:

[h/t NBC]
— —
>> Follow Andrew Kirell (@AndrewKirell) on Twitter
Have a tip we should know? [email protected]
---