WATCH: Toronto Mayor Rob Ford Kicks Off Bizarre New Talk Show (UPDATE: And Now It's Canceled)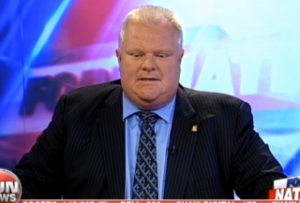 Now that Toronto Mayor Rob Ford has been stripped of most of his powers, he'll have more time to work on his new television show Ford Nation. Yes, it exists, and it kicked off on Monday night, starting off with a big first segment in which Ford addressed the scandal surrounding him, with a platform devoid of critics to deliver his message to anyone who was crazy enough to tune in, or at least everyone in Canada to whom schadenfreude is a familiar feeling.
Ford is not, however, the sole host of the show; his brother Doug Ford co-hosts with him. And the Ford brothers believe that they are being surveilled by the Toronto police.
They milked as much awkwardness as possible from the mess Ford currently finds himself it (to put it mildly), as he kept insisting "I'm only human." Ford got plenty of opportunities to defer (with the help of some pre-screened questions) and push for the policies he believes in, even taking a shot at socialists within the Canadian government. You might think it's crazy for a major news broadcaster to give Ford this kind of platform in this first place. You might very well think that, I couldn't possibly comment.
UPDATE: And now the show's been canceled.. Well, that was fast.
Watch the very first segment of Ford Nation below, via Sun News:
And part two:
And if, for God knows what reason, you want to see the whole thing, it's available here.
[h/t James Poniewozik]
[photo via screengrab]
— —
Follow Josh Feldman on Twitter: @feldmaniac
Have a tip we should know? [email protected]
Josh Feldman - Senior Editor