When Will Reporters Tire of Obama's Tedious Blame-Shifting for His Failures?
Rothman: When Will Reporters Tire of Obama Blame-Shifting His Failures?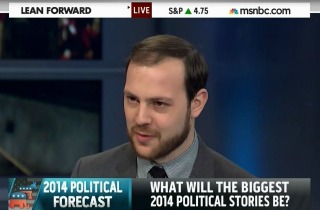 MSNBC.com political reporter Benjy Sarlin revealed a scoop on Tuesday. Citing unnamed officials with the Obama admiration, Sarlin reported that the White House blames Congress for their failure to pass even a symbolic item on the president's second term agenda in 2013. Why the White House would bury this earth-shattering revelation on Christmas Eve is beyond me.

"President [Barack] Obama had a fairly ambitious agenda he talked up in 2012 election," Sarlin observed while touting his most recent piece, "The Year Congress Stole."
"He thought if he won he would break the fever among Republicans and that they would suddenly be interested in helping him out on things like infrastructure, immigration, the environment," he added. "It hasn't quite turned out that way."
Sarlin noted that Republicans, who retain control of the chamber of Congress most responsive to the popular sentiment, uncompromisingly refuse to pass a Democratic president's agenda. "When I talk to former Obama administration officials, people to the White House, that's what they will mention," Sarlin revealed.
"'Look,'" the MSNBC reporter said, adopting the voice of an Obama ally. "'These guys can't keep the lights on, let alone pass major policy.'"
Sarlin was then asked what the prospects were for some form of immigration reform to pass the House in 2014. Sarlin admitted that there were signs that immigration reform, albeit not of the compressive variety, would pass.
This admission would suggest that Republicans are no so much bent on frustrating Obama's agenda for its own sake, but rather they are motivated – as are all actors on this planet – by self-interest. It being in the Republican Party's long-term interests to reform the nation's immigration system, the prospects for its passage is high.
This further indicates, possibly, just maybe, that Republicans can be moved to support legislation that is framed in such that the GOP believes they are advancing their own interests. A chief executive who led and proposed compromises to that end may actually have an achievement or two to tout by now. Instead, This White House chooses to send out aides to give friendly reporters theatrically overburdened quotes centering on how gravely they have been wronged.
After a while, this White House's governing strategy — consisting entirely of stoking the base's belief that they are on the receiving end of an unprecedented level of disrespect — becomes extremely tiresome.
Watch the clip below via MSNBC:
[Photo via screen grab ]
— —
> >Follow Noah Rothman (@NoahCRothman) on Twitter
Have a tip we should know? tips@mediaite.com