White House Tells CNN They'll Revoke Acosta's Press Credential Once Restraining Order Passes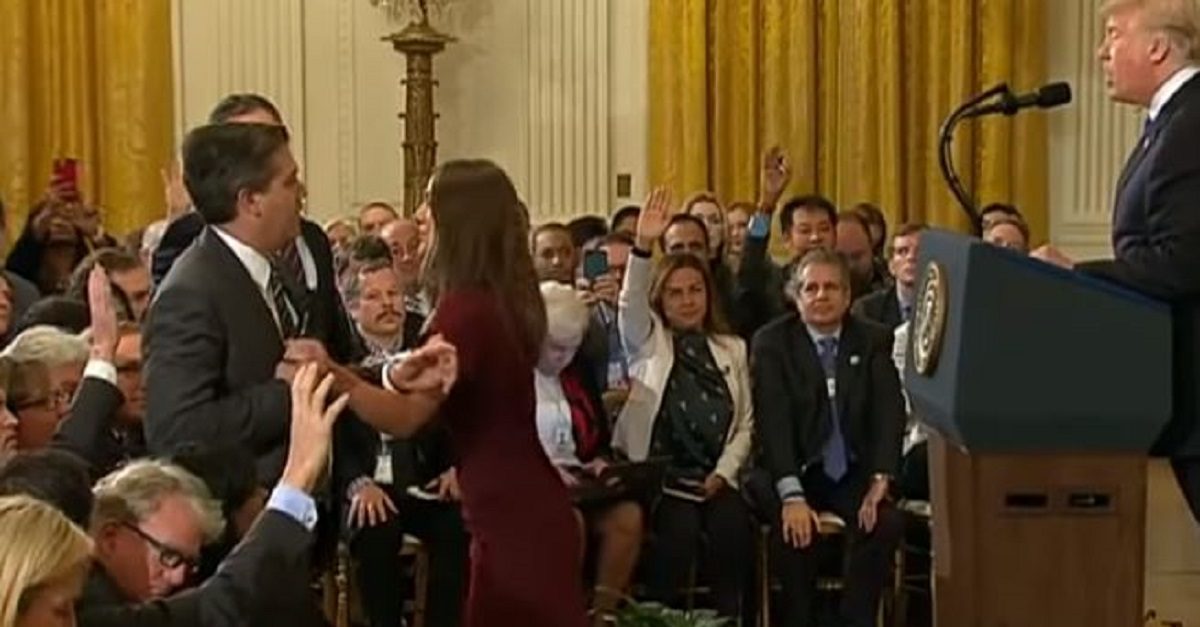 CNN's Brian Stelter reported in Sunday night's Reliable Sources newsletter that the White House intends to revoke the Press Credential of CNN's White House correspondent Jim Acosta at the end of the month.
Judge Timothy J. Kelly ordered, on Friday, that Acosta's "hard pass" be returned immediately. Kelly found that Acosta's First Amendment rights superseded the White House's right to hold orderly press conferences.
The ruling only represented a temporary "victory" for CNN and Acosta according to Stelter's reporting (emphasis his):
After CNN won a temporary restraining order on Friday, forcing the White House to restore his press pass for 14 days, White House officials sent Acosta a letter stating that his pass is set to be suspended again once the restraining order expires.

From the looks of the letter, the W.H. is trying to establish a paper trail that will empower the administration to boot Acosta again at the end of the month.

CNN responded with this statement on Sunday: "The White House is continuing to violate the First and 5th Amendments of the Constitution. These actions threaten all journalists and news organizations. Jim Acosta and CNN will continue to report the news about the White House and the President."
Acosta's press credential had been revoked, reportedly at the direction of President Donald Trump, after a contentious White House press conference in which the CNN reporter persisted in asking follow-up questions and refused to give up a microphone despite Trump's direction.
Supporters of Trump's banning of Acosta believe that his disruptive behavior flouted accepted standards of White House decorum, while CNN and Acosta supporters point out disruptive questions are a time-honored journalist tradition. Or put another way, "Journalism is printing what someone else does not want printed; everything else is public relations."
So it seems the ongoing war over First Amendment rights versus accepted standards of behavior will feature another battle, which will bring another distracting topic for cable news pundits to discuss at length. It's almost as its a designed distraction from stories that paint the Trump administration in a less than flattering light?
UPDATE: CNN has responded by filed a status report asking for the Court to intervene. BuzzFeed News' Zoe Tillman reports:
NEW: CNN has filed a status report asking the court to once again intervene after the White House told Jim Acosta late Friday that it had made the "preliminary decision" to suspend his hard pass, notwithstanding the judge's TRO that morning https://t.co/ndlT2WPSVh pic.twitter.com/ZvdMG4rEAS

— Zoe Tillman (@ZoeTillman) November 19, 2018
Have a tip we should know? tips@mediaite.com