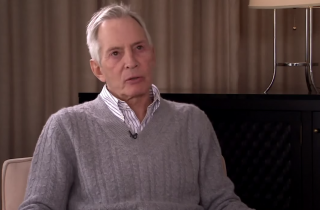 With Sunday evening's final airing of HBO's documentary series The Jinx, eccentric real estate heir Robert A. Durst was catapulted into the national spotlight after seemingly confessing to multiple murders during a hot mic moment.
"What did I do?" Durst whispered to himself in the bathroom. "Killed them all, of course."
Most people, of course, have no idea why any of this matters. So here's a brief primer on Robert Durst to assist you in future cocktail party chatter:
Durst is the son of real estate developer Seymour Durst and grew up in the wealthy New York suburb of Scarsdale.
In 1973, he married dental hygienist Kathleen McCormack. They became estranged in the early 80s, with Durst moving into a separate apartment, and then McCormack disappeared in 1982. Durst was questioned but never arrested for her presumed death, and her case has never been solved.
Despite being the eldest son of the wealthy family, Robert never took over the Durst Organization. Crime Library describes his relationship with the company:
He is one of the heirs to the Durst Organization, a New York real-estate empire that owns nine major properties in midtown Manhattan and is worth billions. The oldest of four siblings, Robert Durst was set for life, but in 1994 when his father chose his younger brother Douglas to run the business, Robert Durst quit in a huff. As Ned Zeman reported in Vanity Fair, Durst "walked out of the office and never returned." Durst apparently refused to be second fiddle to anyone.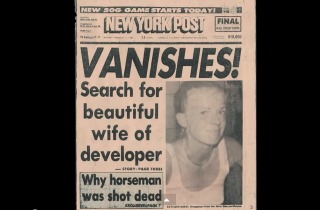 In 2000, suspicions arose again when his long-time friend Susan Berman was found murdered, "gangland-style," in her California home. According to the prosecution in a later case, he moved to Texas around this time and began crossdressing to "distract" from suspicions about his wife's mystery. The key reason Durst was suspected in Berman's death, however, was that she was believed to have knowledge about McCormack's disappearance.
The first time Durst was actually arrested on suspicion of murder was in 2001 after the body parts of his neighbor Morris Black, 71, were found in Galveston Bay. He was released on bail and fled to the northeast before being caught in rather bizarre fashion, as the Crime Library recounts [emphasis added]:
[A]ccused millionaire murderer Robert Durst was done in by a chicken salad sandwich on pumpernickel. On October 9, 2001, with more than $500 in his pocket, he decided to steal a sandwich, a newspaper and a Band-Aid from a supermarket in Hanover Township, Pennsylvania. He was caught by security guards who called the police. A routine background check on Durst revealed that the odd-looking 58-year-old shoplifter was wanted for a mutilation murder in Texas, was a prime suspect in another murder in Los Angeles, and was also wanted for questioning in the 1982 disappearance of his first wife in New York.

When Durst was apprehended he was wearing a woman's brown wig and a false blond mustache. Underneath the wig, his head was shaved clean like his eyebrows.
Back in Texas, Durst faced a two-month murder trial, and was eventually acquitted after being diagnosed with Asperger syndrome and arguing that he killed the neighbor in self-defense and dismembered the body out of panic. He did not escape jail, however — in 2004, he pleaded guilty to two counts of bond jumping and one count of evidence tampering and served two year-long stints separated by a parole violation.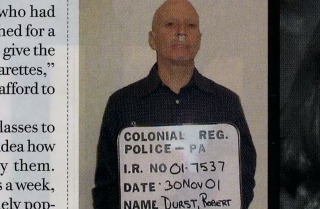 All of these stories were explored in HBO's six-part documentary series The Jinx: The Life and Deaths of Robert Durst, which aired weekly between Feb. 8 and this Sunday evening. On this past Saturday night — the eve of the series finale — Durst was arrested in New Orleans on a first-degree murder warrant connected to the Los Angeles police investigation of Berman's disappearance.
Police have not officially connected the arrest to new circumstantial evidence presented in the documentary — including Durst's hot mic "confession" and a handwritten note about a cadaver — but sources and speculators alike have freely drawn the link.
Durst will likely face a high-profile murder case again, though it's unclear whether The Jinx evidence could be used in court, considering the bathroom whispers were said with a reasonable expectation of privacy. Durst's attorney Chip Lewis told Fox News on Sunday evening that the finale's big moments were "underwhelming" and that many "flamboyant" people say things they likely don't mean under their breath.
Watch the "confession" again, via HBO:
[All images via HBO]
— —
Have a tip we should know? tips@mediaite.com