'Why is it Happening?' CNN Anchor Confronts Trump Supporter Over Trump Jr. Interviewing Cabinet Candidates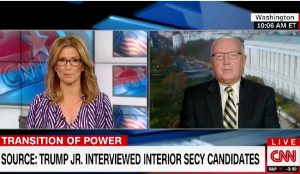 Following news that Donald Trump Jr. has been involved in interviewing his father's potential Cabinet picks, including the recently tapped Secretary of Interior, CNN's Carol Costello interviewed Pete Hoekstra, Michigan co-chair of Donald Trump's campaign.
After Hoekstra stated that he wasn't surprised Trump relied on his son to conduct interviews because in a campaign you turn to those you are closest to, Costello reminded Hoekstra that Trump is now the president-elect and this involves Cabinet choices. She also wanted to know how Trump is able to separate his business interests from the White House considering Trump Jr. is supposed to be running his businesses moving forward.
"That is exactly the process that the Trump family is going through right now," Hoekstra answered. "They are going through it with their lawyers, they are going through it with lawyers in terms of who are experts on government ethics."
"If they are concerned enough to go through it with lawyers," Costello shot back. "Why is it happening?"
Following Hoekstra wondering what Costello was referencing, she brought up conflicts of interest.
"Why is Donald Trump Jr. interviewing potential Cabinet picks?" the CNN anchor asked. "If they are talking with lawyers about conflict of interest?"
They continued to go back and forth over whether it is appropriate for Trump's family to be involved in the transition efforts, especially with Trump's sons being named to run their father's businesses. Hoekstra justified the involvement by saying it is a "close-knit family." He also pointed out that he didn't know all of the details regarding who interviewed whom.
Following the interview, CNN reported that Eric Trump was also involved in interviewing candidates.
Watch the clip above, via CNN.
[image via screengrab]
–
Follow Justin Baragona on Twitter: @justinbaragona
Have a tip we should know? tips@mediaite.com