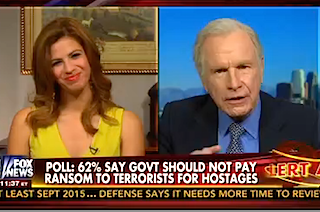 Eric Bolling's Saturday morning Fox News show Cashin' In got off to a heated start this week as former M*A*S*H cast member and frequent guest Wayne Rogers threw down with Fox contributor Michelle Fields over the question of paying ransom to terrorists.
"All you do when you do that is encourage them to do more kidnappings," Rogers said of those who would pay a group like ISIS millions of dollars to release American hostages.
Fields initially agreed with Rogers, saying, "We need to show these terrorists that when they kidnap an american it does not result in a monetary compensation, it results in swift retaliation." She accused European governments, which have been far more willing to pay ransoms than the Americans have, of "subsidizing" terrorism.
Things started to get dicey once Bolling asked his guests what the difference is between paying ransoms to ISIS and swapping detainees for American prisoners of war, as the Obama administration did when they brought Sgt. Bowe Bergdahl home earlier this year. "What's the difference if it's five guys or $132 million?" he asked. "You're still negotiating."
Rogers chimed in that he did not believe swapping prisoners counts as "negotiating" with terrorists. "Let me finish, for God's sake!" he shouted at Fields, throwing papers at the camera, as she tried to talk over him. "Will you shut up? What is the matter with you? Why do you have to talk all the time?"
Fields continued to make her case, but ultimately Rogers got the last word. "It is not negotiating, but you're a moron because you talk to much and you don't think through it," he told her, pulling out his earpiece as the segment came to an end.
Watch video below, via Fox News:
[Photo via screengrab]
— —
>> Follow Matt Wilstein (@TheMattWilstein) on Twitter
Have a tip we should know? tips@mediaite.com