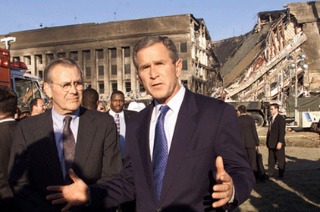 There are times when the flow of history follows an almost poetic trajectory. The equal parts tragic and galvanizing events of the past two weeks are representative of that rare phenomenon. Surely, it was merely accident that resulted in the coincidence of the reemergence of President George W. Bush onto the political scene with the most successful terror attack on U.S. soil since September 11, 2001. Then, with the confirmation on Thursday that weapons of mass destruction had seen their first battlefield use in decades, the confluence of symbolic events became inescapable. Historians will determine precisely when it was that America's years-long, self-imposed effort to decouple domestic politics from global security and stability ended, but April, 2013, will feature prominently in that debate. With the end of American isolation comes the collective reassessment of George W. Bush.

It was not Bush's desire when he entered office in January, 2001, that his presidency would be characterized by a multi-front war against an amorphous enemy, but exogenous events would come to shape his presidency and his legacy.
President Barack Obama entered office with a similar desire to be transformative at home rather than abroad. America's war-weariness in combination with the deep financial crisis of 2008 afforded Obama the leeway to scale back the prosecution of the War on Terror in his first term – going so far in 2009 as to inform officials at the Pentagon that the phrase itself was to be retired.
But that isolation ended on April 15. In spite of the efforts of some in the pundit class to spread blame for the attack to everything and everyone not associated with radical Islam, America's gut instincts proved correct. American civilians had again been the victims of a terror plot perpetrated by radical jihadists. The extent of foreign involvement in this plot is not yet known, but early suggestions by some commentators that the brothers Tsarnaev acted entirely without assistance from overseas now appears equally imprudent.
When the suspects in the Boston attack were either killed or arrested and the United States shifted from grieving over the victims of this attack to preventing the next. But any discussion of the response to terror in the wake of the attack on Boston included a nod Obama's predecessor who presided over the institutionalization of America's response to terrorism. Since last week, President Bush has been on Americans' minds in a way that he has not since he took off from the White House lawn in Marine One.
It was fitting then that this was the week in which the George W. Bush Presidential Library would open. For some, the ceremony served as a closing of the book on the Bush presidency. For others, it was a form of closure on last week's traumatic events. All could agree that the ceremony should have marked the moment when Americans could settle back into the sheltered and familiar rhythm of debating domestic politics. But events would yet intervene.
A perfect illustration of how events prohibited America's return to normalcy on Monday comes from MSNBC's coverage of the dedication of the Bush library. Following the ceremony, NBC News anchors and personalities pontificated on the Bush legacy until events of more gravity interceded.
Chris Matthews was forced to cease discussion of the Bush-era to announce that the White House had tentatively confirmed that their "red line" for required action in the two-year-old Syrian civil war had been crossed. The Obama administration had confirmed that chemical weapons of mass destruction had been used in Syria.
It was moments later that, after a brief return to the comfort of political banter, tranquility was again shattered with more breaking news: the Boston Marathon attackers had credible plans to take the remainder of their explosive devices (one pressure cooker bomb and five pipe bombs, according to authorities) with them on a mission to kill as many people as possible in New York City's Times Square.
Much will be written yet of these duel crises and the divergence of opinions about the appropriateness of America's response to both has yet to be explored. But the almost cosmic confluence of events is eerie. Terrorism targeting New York City, reports of weapons of mass destruction in a strategic Mideast nation, and the reemergence of George W. Bush from his long political exile.
I believe in coincidences, but these are certainly interesting times for those that do not.
> >Follow Noah Rothman (@NoahCRothman) on Twitter
Have a tip we should know? tips@mediaite.com