Woodward On Tension Between Him And White House: I Got An E-Mail Saying 'You're Going To Regret This'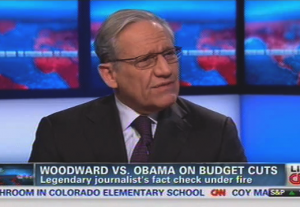 Bob Woodward has been heralded by conservatives over his insistence that in spite of the White House trying to blame the impending sequester on the Republican-led House, the whole thing was their idea to begin with. On CNN today, Woodward said that the White House is obviously not happy with his reporting, revealing that he received one e-mail from a senior White House official warning him, "you're going to regret this."
RELATED: Bob Woodward Tears Into Obama With Veiled Nixonian Criticism: 'Madness That I Haven't Seen In A Long Time'
Kate Bolduan asked Woodward about the response from the White House to his reporting. Woodward said the White House mainly appears to be confused, claiming that one of their rebuttals was to cite a proposal from Republican House leadership that wasn't actually the sequester. Blitzer said CNN attempted to get someone from the Obama administration on to debate Woodward, but no one wanted to come on.
Woodward made it clear he's not accusing the White House of any criminal activity, just reporting the facts as he collected them. Blitzer asked Woodward to weigh in on the allegations being thrown in his direction by the White House. Woodward said the administration isn't happy, revealing that he actually received one e-mail that amounted to a threat.
"It was said very clearly 'You will regret doing this'… It makes me very uncomfortable to have the White House telling reporters, you're going to regret doing something you believe in, even though we don't look at it that way, you do look at it that way."
He marveled at how "Mickey Mouse" the whole thing was, while expressing some hope that the White House drops its "irrationality" and actually gets to work preventing the sequester.
Watch the video below, courtesy of CNN:
—–
Follow Josh Feldman on Twitter: @feldmaniac
Have a tip we should know? tips@mediaite.com
Josh Feldman - Senior Editor