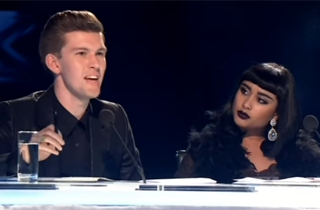 Two judges from the New Zealand version of The X Factor were immediately fired after last night's show, because they unexpectedly went off on a contestant for copying the judge's signature style: slicked-back hair and a suit.
According to judge Natalia Kills, the poor Michael Buble-crooning contestant was an "unoriginal" "doppelganger" of her husband, fellow X Factor judge Willy Moon, because look at him: he dared to wear a suit.
"As an artist who respects creative integrity and intellectual property, I am disgusted by how much you have copied my husband," Kills spat. "From the hair to the suit — do you not have any value or respect for originality? You're a laughingstock! It's cheesy! It's disgusting! I personally found it absolutely artistically atrocious. I am embarrassed to be sitting here in your presence even having to dignify you with an answer of my opinion."
"To me it feels a little bit cheap and gauche," Moon agreed. "It's like Norman Bates dressing up in his mother's clothing — it's just a little bit creepy and I feel like you're gonna stitch someone's skin to your face and kill everybody in the audience."
It should be noted that Michael Bublé's entire look also consists of a sharp suit and slicked-back hair. Justin Timberlake's look does, too. Beyond singers, there's the entire cast of Mad Men, all of these J. Crew models, any page in GQ, all of my colleagues at Mediaite — you get the idea.
(Maybe New Zealand doesn't have any of these things, but that's the only, highly improbable explanation for this rant that gives them any sympathy.)
Shortly afterwards, the two judges were sacked for their "destructive tirade," with MediaWorks' executive Mark Weldon calling their comments "completely unacceptable".
Watch below:
[h/t Jezebel]
[Image via screenshot]
—
>> Follow Tina Nguyen (@Tina_Nguyen) on Twitter
Have a tip we should know? tips@mediaite.com