'You F*cking Idiot': Watch This Explosive HuffPost Live Battle on Feminism and Masculinity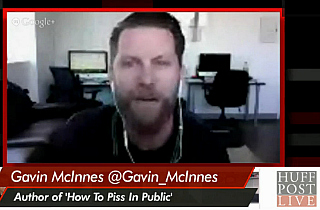 A HuffPost Live conversation about feminism and masculinity issues became explosive Tuesday afternoon after one guest dismissed suggestions that a woman can be truly happy in the workforce while also raising a child.
The debate began when Vice co-founder and author of How to Piss in Public Gavin McInnes took issue with his co-panelists' claim that masculinity has lately played a declining role in American society. The segment was themed around the concept that most traditional masculine heroes — cowboys, athletes, etc. — have all proven to be flawed characters. And that extraordinary levels of violence is no longer considered heroic.
"Why are all you wimps complaining that violence is bad, 'macho' is bad?" he asked. "That's how we got here. This idea of this beta-male being in control is, what, 20 years old? You're going against 40,000 years of evolution."
"Men are the majority of breadwinners in the Western world" and "women are forced to pretend to be men," he added. "They're feigning this toughness. They're miserable. Study after study has shown that feminism has made women less happy. They're not happy in the work force, for the most part."
By enforcing women in the workplace as the new "norm," McInnes said, "we're making [women] miserable." On the other hand, he asserted, the "innate toughness" of being a male has come in handy for him in the workplace. He recounted a recent story in which he and a co-worker engaged in a "fist-fight with words," which he "had to do in order to generate income to pay my bills to feed my children." Ultimately, he concluded, "this innate 'toughness' that men have is crucial to our survival."
Law professor and feminist Mary Anne Franks pushed back on McInnes, declaring it "a sign of weakness, of figurative impotence, to say that 'It must be like this' and that 'All of you who are doing things differently are messing with nature and I really need you to stop.'"
Psychology professor Michael Aldis jumped in to agree with Franks, telling the viewers at home that in watching McInnes, they can "See how 'masculinity' works," in that "People define it in a particular way and then threaten those who don't conform." He railed against McInnes for suggesting that those who question gender roles are "wimps."
"I'm not enforcing anything on anyone," McInnes responded. "My gut says the majority of women like being domestic and shaping lives." When writer Eric Garland pointed out that his wife is a medical professor who is happy with her life, McInnes shot back: "Oh, good, you found some anecdotal evidence to prove your point. Congratulations."
Things got especially tense, however, when Professor Franks reiterated that McInnes was demonstrating all that's "wrong" with "masculinity" in his insistence that things follow a certain order.
"I'm not 'insisting' anything, you fucking idiot," McInnes shouted at her.
"Why is Gavin so scared?" Franks responded. "The only thing people need to be scared of are people like Gavin."
After the segment was done and over, McInnes had this to say on Twitter:
I deeply regret my #HuffPostLive comments. Fashion PR is WAY more fulfilling than creating, nurturing, and shaping a human life.

— Gavin McInnes (@Gavin_McInnes) October 22, 2013
Watch the highlights below, via HuffPost Live:
[h/t ABC News]
— —
>> Follow Andrew Kirell (@AndrewKirell) on Twitter
Have a tip we should know? tips@mediaite.com