Zimmerman Attorney To Anderson Cooper: We Do Things That Are 'Somewhat Insensitive' To Martin Family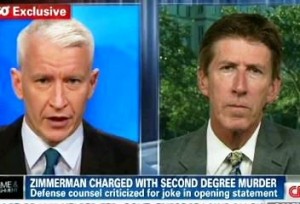 George Zimmerman attorney Mark O'Mara spoke with Anderson Cooper tonight on CNN. O'Mara admitted to Cooper that his co-counsel Don West had not informed him ahead of time about the now-infamous knock-knock joke and that it "probably should have been re-thought." Cooper brought up the decision to let Trayvon Martin's parents in the courtroom but not Zimmerman's. O'Mara addressed Martin's father leaving the room after graphic photos of his son's corpse were shown, acknowledging that the defense does things "that are somewhat insensitive" to Martin's parents in making their case.
RELATED: Trayvon Martin's Father Exits Courtroom When Prosecution Shows Graphic Photos Of Son's Corpse To Jury
O'Mara said that the ruling on audio experts was a mixed bag for them, since they had their own witnesses to bring in. Cooper asked O'Mara "how concerned" he is about Martin's parents being in the courtroom. O'Mara said the situation is unquestionably a "tragedy for both families," and provided a candid response on Martin's parents being in the room as the trial unfolds.
"There are things that we do that are somewhat insensitive to a family who's lost a loved one, and if they need to leave the courtroom because of that I'm fine. What I don't want and I think everybody needs to be careful of is any type of maneuver or showboating with something that would suggest–try to impact on that jury."
O'Mara also told Cooper that they have not made a final determination over whether Zimmerman himself will take the stand, but may end up doing so after seeing all the evidence presented by the state.
Watch the video below, courtesy of CNN:
—–
Follow Josh Feldman on Twitter: @feldmaniac
Have a tip we should know? tips@mediaite.com
Josh Feldman - Senior Editor