Zimmerman's Brother Goes After Trayvon On CNN: 'What Makes People Angry Enough To Attack The Way He Did?'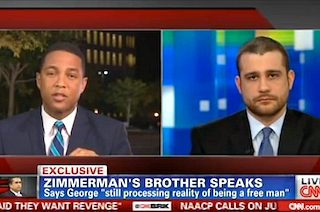 Don Lemon interviewed George Zimmerman's brother Robert Zimmerman on Sunday afternoon, to follow up on Robert's stated desire to start a dialogue about race. Robert Zimmerman responded by wondering if Trayvon Martin had been buying guns or growing pot, and accusing his brother's critics of being unable to answer tough questions about race themselves.
"Robert, you said you want to start some sort of dialogue," Lemon said. "Much has been made about race in this particular case. You, your brother, your family, you have a unique opportunity in this country to address that. What would you like to see happen when it comes to race, to healing the divide, and do you plan to do anything about, and will you ask your brother to do anything about that?"
"I will ask George first to heal, and I will see to it that my life's work is bringing people together, but not driving people apart," Zimmerman responded, noting that his family had been "on the receiving end" of a good deal of hatred in the past sixteen months.
"We have to grow from this," Zimmerman said. "I want to know what makes people angry enough to attack someone the way that Trayvon Martin did. I want to know, if it is true, and I don't know that it was true, that Trayvon Martin was looking to procure firearms, was growing marijuana plants, or was making lean, or whatever he was doing. I want to know that every minor, high schooler, that would be reaching out in some way for help—and they may feel it's by procuring firearms or whatever they may be doing—that they have some kind of help."
Zimmerman referenced his brother's mentorship of two black children, which he wagered many of the defendant's critics didn't know.
"I wonder how many people at these rallies calling for his death, calling for his capture dead or alive, I wonder how many of them mentored African American children?" Zimmerman mused. "I think it's a time now going forward when we should start to ask really tough questions about why it was so hard for us to conceive of the likelihood that perhaps Trayvon Martin really did attack George this way and ask tough questions about, 'Are we not willing to accept that because of race?'"
Watch the segment here, via CNN:
—
>> Follow Evan McMurry (@evanmcmurry) on Twitter
Have a tip we should know? tips@mediaite.com