Zimmerman's Mother Commemorates One Year Anniversary Of Son's Arrest As 'The Day The Justice System Failed'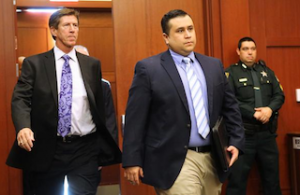 One year after George Zimmerman was arrested for the murder of 17-year-old Trayvon Martin, Zimmerman's mother has published a letter accusing authorities of arresting her son "solely to placate the masses" and calling that day, April 11, 2012, "the day the justice system failed us as Americans."
Robert Zimmerman, the brother of the alleged murderer, who recently appeared in a confrontational interview with Piers Morgan on CNN, posted a link to the letter on Twitter, saying that his mother asked him to publish it publicly.
"April 11 2012 will be forever remembered by the Zimmerman family as the day the justice system failed us as Americans, and as a consequence an innocent man was arrested for a crime he did not commit, solely to placate the masses," Gladys Zimmerman wrote in the letter.
She also issued harsh criticism against the media, which she says promoted a "false narrative" about the killing and created a "mythical monster" out of her son. "It is astounding that despite the vast amount of information and evidence now available that supports George's self-defense claim, the majority of the media avoids its publication," she wrote. "It is indeed alarming that even more media outlets do not regret misinforming the public and have not taken steps to retract the fabrications they are responsible for perpetuating."
George Zimmerman is currently awaiting trial, which is set to begin on June 10th, 2013. While the media has largely moved on from his story since the firestorm that erupted last spring, it will likely turn its attention back to him when the trial begins.
Read the full letter below, via Scribd:
—
>> Follow Matt Wilstein (@TheMattWilstein) on Twitter
Have a tip we should know? tips@mediaite.com