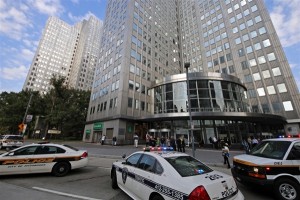 An armed man took a hostage in an office building in Pittsburgh, Pa. on Friday, according to the Associated Press. Emergency crews, "including a police SWAT team and special weapons and tactics officers" responded to the situation. There are conflicting reports about whether the building has been evacuated.
After 8 a.m., when the man took the hostage, police negotiators were in contact with the man, Pittsburgh Police Chief Nate Harper. The incident is on the 16th floor of Three Gateway Center, "one of six office buildings that dominate the city skyline."
Authorities know the identities of both the hostage and gunman, describing the former as "ex-military." No injuries had been reported, nor had any shots been fired.
Further details, via the AP:
A worker on the same floor said the hostage-taking unfolded inside the offices of CW Breitsman Associates, a firm that runs employee-benefits programs.

Kathi Dvorak, an administrative assistant at AXA Advisors, said a woman ran into her office yelling for someone to call 911. A second woman ran in and said her office was being robbed.

Police arrived soon after and began evacuating the building.

Several hundred people milled around about a half-block from the 24-story building after police evacuated it. A light rail stop nearby was closed and at least 20 emergency vehicles surrounded the building.
The police chief's remarks on the situation, via NBC News:
"We have a black male that is holding two or possibly one person hostage," Pittsburgh police Chief Nate Harper told WPXI. "We are negotiating with that person right now. No one has been hurt at this time. There have been no shots fired at this time. The individual walked in to the investment office and started asking questions."
We'll update as more information becomes available.
UPDATE: Police Chief Nate Harper identified the man as "Klein Michael Thaxton, 22, and said he is ex-military and targeted someone specific in the office." Thaxton's mother was seen walking into the high-rise, alongside police. Describing Thaxton as "calm," Harper said Thaxton is currently negotiating with police.
Meanwhile, he's been posting on Facebook during the hostage situation. Via WTAE:
Multiple posts have been made to Thaxton's Facebook page during the hostage situation:
– "this life im livn rite now i dnt want anymore ive lost everything and i aint gettn it back instead of walkn around all broke n (expletive) while (racial epithet) stunt on me n (expletive) "
– "welln pops youll never have to woryy about me again you'll nevr need to by me anything no need to ever waste ur hard earned money on me. i'll live n jail you dnt want me around anymore thats kool bye…i love u assata sis"
– 'i cant take it no more im done bro"
[Photo via AP]
Have a tip we should know? tips@mediaite.com