COVER WARS: Phoenix Genuinely Runs Laps Around the Jonas Brothers Identity Crisis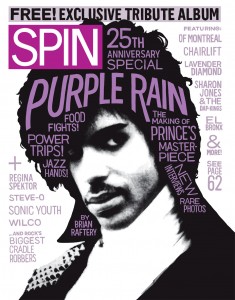 Who has the stomach for a tribute right now? Apparently, the folks over at Spin magazine who dedicated their July issue to Prince's Purple Rain. To be fair, production for the July issue was probably finished before the wall-to-wall MJ commemorationstock began. But still, the Prince tribute feels a little desperate.
Mediaite Grade (B-): Don't get us wrong, we have a special place in our heart for Prince just like the next guy. That said, Spin's cover looks like it's ripping off Esquire, and the photo-illustration isn't doing it for us. "Rare photos" — why not put one of them on the cover?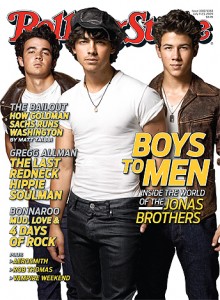 Rolling Stone seems to be having an identity crisis on behalf of the Jonas Brothers. Last August they were darling boy rockers — "God! Girls! Guitars!"  — and they couldn't help but tear each other's shirt. This time around they're a bit more subdued. But the headline "Boys to Men" fails to convince that they're ready to be taken seriously as musicians. 
Mediaite Grade (C-): Watching the Jonas Brothers butch it up on the cover of Rolling Stone this week is certainly good for a laugh (leather hat: priceless). But between the boyish good looks, the prim swagger and the booming yellow type, this cover looks like it was cribbed from Tiger Beat. Is this cover really going to draw the sort of eyes that will want to read Matt Taibbi's piece — "The Bailout: How Goldman Sachs Runs Washington"?  Maybe Rolling Stone is having a little identity crisis of its own.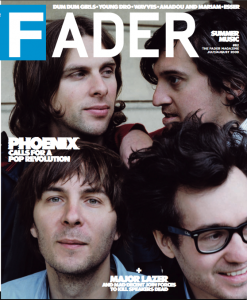 Fader might not go for the same eye-grabbing pop as the other music mags, but the July/August cover featuring French rockers Phoenix is pure cool. Peter Macia says it best in the cover story:
"This benevolent seduction is the whole plot behind Phoenix's music: It is so undeniably cool but so effortlessly engaging that, once you drop your preconceived notions of what is French and what is rock & roll and what is acceptable as a responsible journalist, you kind of just want to forget everything else."
Mediaite Grade (A): Who knew making an engaging cover could be this easy: a decent photograph of relatively normal-looking people and an understated, provactive deck. Weird.
COVER WARS WINNER: Fader takes the cake this time for keeping it simple and reporting on, you know, new music. We'll save our decline-of-the-music-mag tears for another time, but we'd all do well to return to our roots — and, no, that doesn't mean another tribute cover. 
Have a tip we should know? tips@mediaite.com