Kris Kobach's Primary Lead Cut By More Than Half After Vote Tally Mistake Uncovered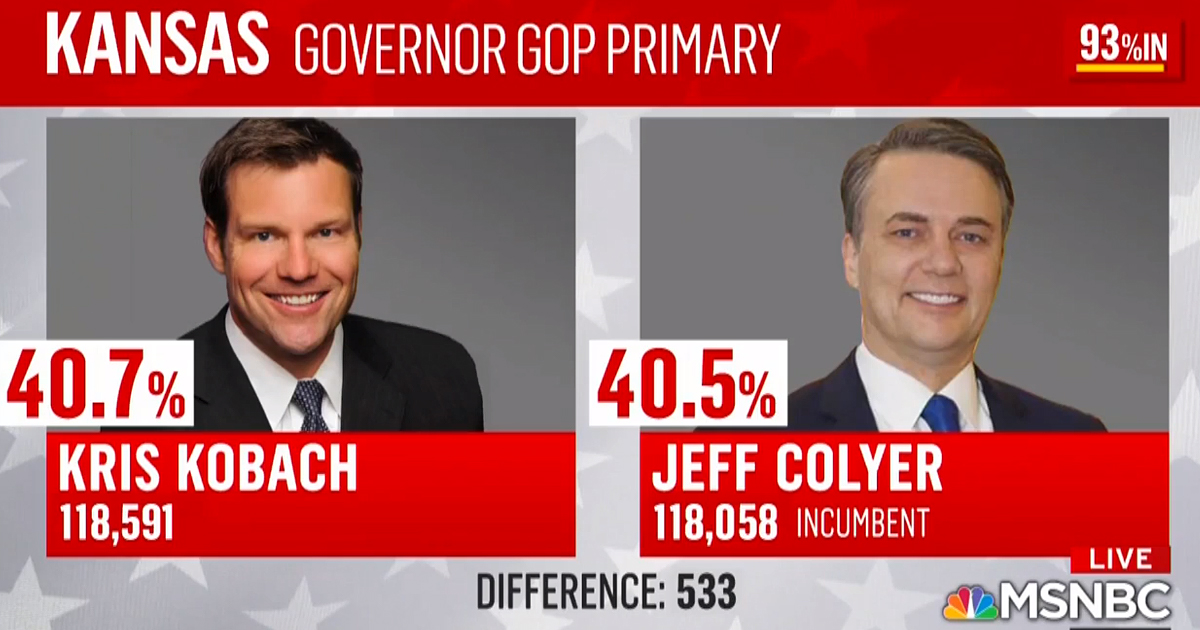 As results of the gubernatorial primary trickle in, Kansas Secretary of State Kris Kobach is now leading the incumbent by a mere 91 votes, that tally having been cut in half after a mistake was discovered.
Kobach had initially touted 466 votes against Governor Jeff Cloyer's 422 in Thomas County, according to his website where he posted results provided to him by the county clerk's office. But it appears he jumped the gun. The county clerk's office, after realizing an error, recorded Cloyer as having received 522 votes, 100 more than Kobach touted, CBS reported.
CNN pointed out a small irony:
Kobach, as secretary of state, is Kansas' chief elections official.

He is known nationally for his advocacy for restrictive voting laws. He led President Donald Trump's commission that investigated Trump's false claim that millions of votes were cast illegally in the 2016 election, and has backed up Trump's claim despite never producing evidence of widespread voter fraud.
Things are still up in the air; however, since election officials still have to count more than 10,000 provisional and mail-in ballots, according to CNN. That means this could go on for days.
Either candidate could request a recount when the dust settles, but he'd have to provide the cash to pay for it, and a refund is only guaranteed if said candidate is found to have won.
The 91-vote lead is a slim margin compared to the roughly 311,000 cast, so it looks to be anyone's game.
Read the CNN report here.
[Image via screengrab]
Have a tip we should know? tips@mediaite.com