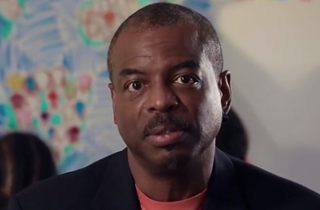 Attention, people who care about literacy and education and imagination and joy: LeVar Burton is bringing back Reading Rainbow, and therefore American literacy, via a Kickstarter campaign. He hopes to raise a million dollars to bring the beloved show online, where a rebooted of the show — and hundreds of free books — will be free and available to children and classrooms throughout the country. (As of right now — hours after the campaign launched– they've already raised over $300,000, so yeah, the world is really stoked about this.)
While the show, which ended in 2006 and stopped reruns in 2009, is available via tablet and apps, Burton says that it's cost-prohibitive. "Not all families have access to tablets," he writes on the Kickstarter page. "To reach kids everywhere, we need to be everywhere: we need to be on the web." He also plans on releasing a version of Reading Rainbow for classrooms, and — the nicest part — thanks to a new non-profit, low-income classrooms can get copies of it for free.
There's Kickstarter swag, too! Donors can get things ranging from Reading Rainbow mugs to an actual dinner with LeVar Burton, where you can try on his Geordi LaForge visor (seriously, this is if you donate $10,000). But really, the opportunity to bring the butterflies back to the skyyyyyyyyy and get kids into reading should be enough.
Still not convinced? Watch the Kickstarter sketch Burton filmed with a bunch of adorable, gaping elementary school students below:
Update- 9:06 P.M.: And the $1 million goal has already been raised and surpassed, in less than a day since the Kickstarter went live.
[h/t TheWrap]
[Image via screenshot]
—
>> Follow Tina Nguyen (@Tina_Nguyen) on Twitter
Have a tip we should know? tips@mediaite.com