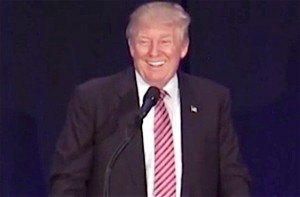 Trump's campaign enriched his businesses to the tune of $8.2 million, according to a new report in Politico.
The entanglement of Trump's campaign and his various interests represents an "integrated business and political operation without precedent in national politics," write Kenneth P. Vogel and Isaac Arnsdorf.
According to an analysis of Trump's finance disclosure forms, his businesses received 7% of the campaign's total expenditures. The disbursements include food, rent for campaign offices, and payroll for Trump's corporate employees who are also working on the campaign.
Among the goods and services that Trump has paid his companies for are $34,500 for lodging and event staging at Trump National Doral golf course, $48,200 for room rental and catering from the Trump National Golf Club in Westchester, N.Y., and $142,000 to Trump Restaurants for rent, utilities, meals and office supplies. It paid more than $1 million to Trump Tower to rent office space for its main campaign headquarters. Trump Ice, his bottled water company, got $1,300, while his son Eric Trump's Virginia winery was paid almost $5,000 for catering and event space.
The report comes on the heels of Washington Post's David Fahrenthold's investigations into the Trump Foundation, showing that Trump used the charitable organization to funnel other people's money while contributing none of his own since 2008, and that he used $258,000 meant for charitable causes to settle his personal legal matters.
Additionally, Trump has frequently used the campaign as an opportunity to tout his businesses, like when he turned a primary victory speech in March into an infomercial for Trump Steaks and Trump Water, or when he lured the media into covering a a presser about birtherism, at which he touted the opening of his new hotel.
You can read the complete report Politico here.
Have a tip we should know? tips@mediaite.com