By now, you would think it's obvious you shouldn't use someone's death as a means for selling dessert…or anything. No one is trying to be offensive, of course, but you're going to get a lot of backlash. It's probably better just to, you know, not. Even if the Tweet isn't bad. You're going to have to delete it.
After Carrie Fisher died, Cinnabon Tweeted that she would "always have the best buns in the galaxy."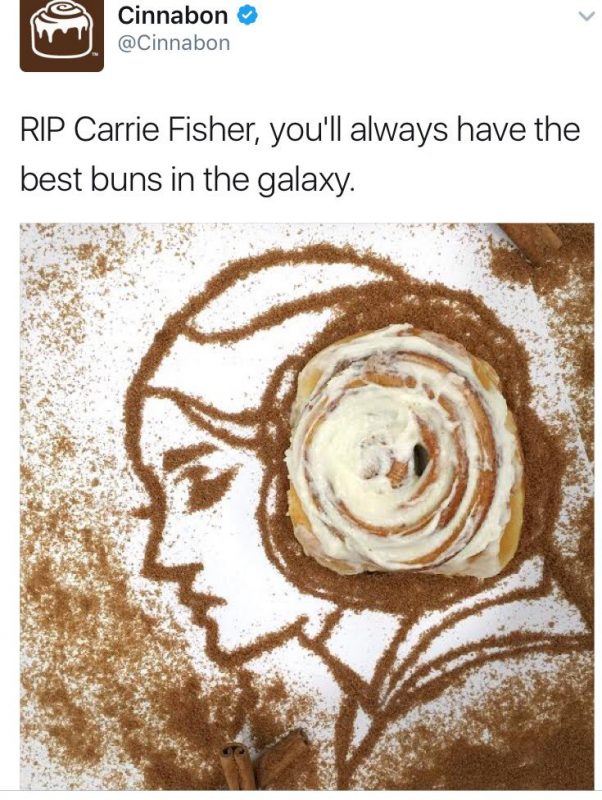 After receiving backlash, Cinnabon deleted the Tweet and released an apology.
Our deleted tweet was genuinely meant as a tribute, but we shouldn't have posted it. We are truly sorry.

— Cinnabon (@Cinnabon) December 28, 2016
Lots of people think the backlash and subsequent delete were unnecessary and now, unsurprisingly, the backlash is getting a lot of backlash because 2016.
Cinnabon tweet was hilarious–as was Fisher's Star Wars hairdo. Can we pls stop all the joke policing? https://t.co/jm2ZoQdwJm via @BrowBeat

— Amy Alkon (@amyalkon) December 28, 2016
Those of you faking outrage about this Cinnabon tribute to carrie, sod off.

She would have loved it. She had the sense of humor you lack. pic.twitter.com/iV9zHhV4Xg

— Boogie2988 (@Boogie2988) December 28, 2016
Anyone who attacked @Cinnabon for this obviously didn't know that Carrie would have retweeted this and made a snarky comment https://t.co/EjKVSlEEG4

— hope. (@rogueorgana) December 28, 2016
Shaming @SteveMartinToGo and @Cinnabon to delete their Carrie Fisher tweets is literally the exact opposite of what you admired about her.

— Joe DeRosa (@joederosacomedy) December 28, 2016
everyone on twitter was talking about living more freely like carrie fisher and now they're getting mad at a cinnabon tweet

— brian feldman (@bafeldman) December 27, 2016
Gonna go out on a limb here and say anyone offended by Steve Martin or Cinnabon does not share #CarrieFisher 's sense of humor.

— Amy (@WaltzingMtilda) December 28, 2016
Earlier this week, Steve Martin also removed a tribute to Fisher amid criticism.
[featured image via Twitter/@Cinnabon]
Have a tip we should know? tips@mediaite.com