Jamal Khashoggi's Alleged Murder Has All the Makings of a Legitimate Trump Scandal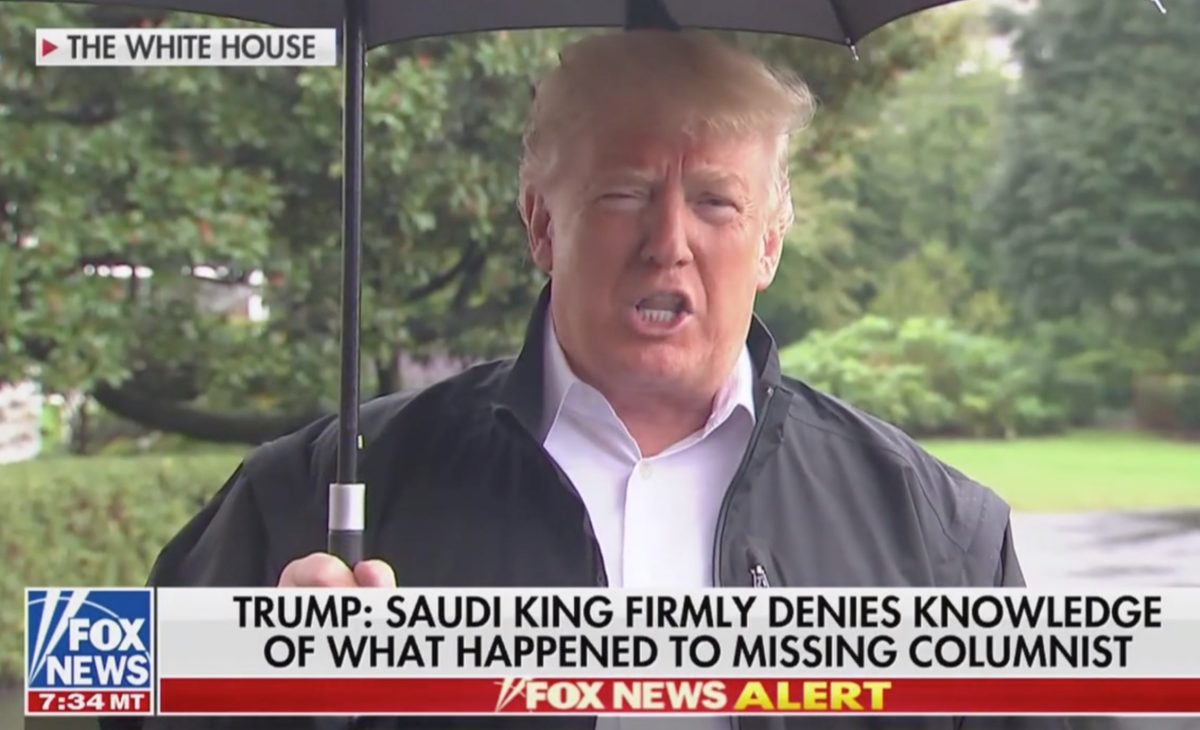 At first glance, the brutal alleged murder of Washington Post contributor Jamal Khashoggi in the Saudi Arabian consulate in Turkey, would not appear to be a major scandal for President Donald Trump. After all, there is no evidence that Trump had any knowledge of the killing, and this is a guy who can somehow get away with calling his former mistress, whom he paid $130,000 to keep quiet, a "horseface," all while still denying the affair, and suffer no apparent consequences.
In a world where facts and logic still mattered, however, there are several factors surrounding Trump and his handling of this controversy that would be considered both morally shameful and politically dangerous.
First, let's stipulate that there is a lot about this story that we don't yet know for sure (technically, we still don't even have a body). But there is a lot that we do know which should at least raise serious questions about Trump's fitness to handle this horrific set of circumstances.
For context, there's Trump's long history with power players within and around the Saudi royal family. All the way back in the 1980s Trump went on David Letterman's old show to brag about how he purchased his "Trump Princess" yacht (full disclosure: he did so via a loan which my father played a key role in approving, though, to his knowledge, it was never fully repaid) from a notorious Saudi Arabian arms dealer. In a mind-blowing coincidence, that arms dealer, also named Khashoggi, was an uncle to this apparent murder victim.
But that was just the beginning of Trump's financial ties to Saudi Arabia (he soon sold the yacht, which he could never really afford, to a Saudi prince). Since then, Trump has had so many substantive dealings with the Saudis that when he laughably denied any personal connections to them, after having publicly boasted of such connections, even Fox News felt compelled to fact check him on the issue.
There is also another factor that could be very much related here which the media, strangely, has completely ignored. The Saudis have been lobbying Trump to change a 2016 law which makes them vulnerable to American lawsuits over 9/11 (I know personally that many large Saudi investors in the U.S. are terrified of potential legal jeopardy and have been hesitant keep assets here). However, earlier this year a federal court ruled that these lawsuits can move forward, thus creating potential tension between the Saudis and Trump, with them concluding that our president doesn't really have the power they thought that he did to help his Saudi friends.
None of this, of course, is an indication that Trump has done anything inherently wrong with regards to his Saudi connections. It is, however, what used to be known as a clear conflict of interest (back when we still pretended that ethics mattered) and it is important for interpreting Trump's words and actions in response to the Saudis' apparently brazen violation of basic human rights.
Given Trump's many ties to the Saudi kingdom, and the fact that we have the eerie precedent of his remarkably similar dubious denials of connections to Russia — and his stupefying unwillingness to criticize Vladimir Putin — his words alone have been inexplicably troubling, if not far worse. Consider all the ways which Trump has sought to rationalize the United States not taking strong action against the Saudis:
If these things had been said, with even a fraction of the personal conflicts as Trump has, by Barack Obama or a President Hillary Clinton, the conservative media industrial complex would be sounding a five-alarm fire. Instead, the only rebuke of the president from conservative circles came in the form of rather subtle chiding from Lindsey Graham about how obvious it is that the Saudis really are guilty here.
While Russia investigation may end up being far bigger when it comes to exposing Trump's frailties as president, the Saudi situation involves a direct and brutal murder, along with overwhelming evidence which, unlike with Russia, normal people can easily understand. Consequently, in some ways, it may actually provide more potential political peril for the president.
If anything still mattered.
John Ziegler hosts a weekly podcast focusing on news media issues and is documentary filmmaker. You can follow him on Twitter at @ZigManFreud  or email him at johnz@mediaite.com
This is an opinion piece. The views expressed in this article are those of just the author.