Trump Ripped For Comparing Scrutiny on Saudi Arabia to Kavanaugh Allegations: 'Idiotic Beyond Words'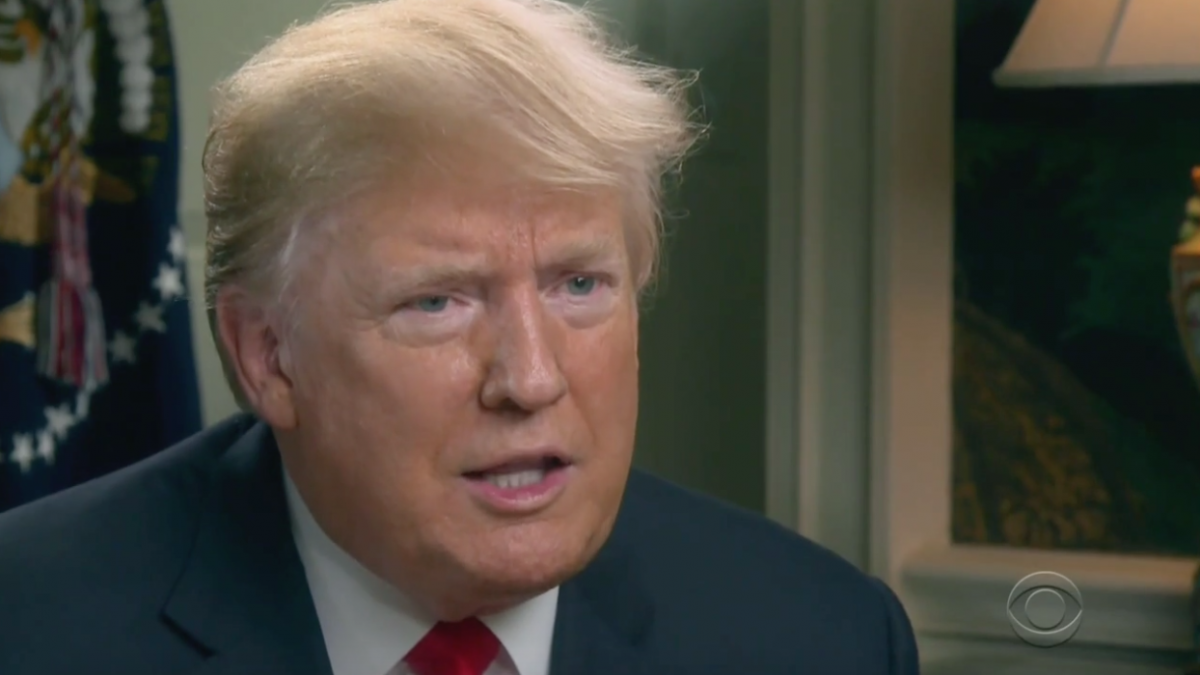 President Donald Trump was harshly criticized after he defended Saudi Arabia by comparing allegations that they were involved in the disappearance of Washington Post columnist Jamal Khashoggi to the allegations against Supreme Court Justice Brett Kavanaugh — meaning, he is not convinced by the claims.
"I think we have to find out what happened first," Trump said in an interview with the Associated Press today. "Here we go again with, you know, you're guilty until proven innocent. I don't like that. We just went through that with Justice Kavanaugh and he was innocent all the way as far as I'm concerned."
Khashoggi went missing early this month and is believed to have been killed by Saudi operatives while visiting a Saudi consulate in Turkey.
Journalists and pundits quickly blasted Trump for trying to downplay Saudi Arabia's role in Khashoggi going missing:
Jesus Christ https://t.co/HkIHBNoLyB

— Chris Hayes (@chrislhayes) October 16, 2018
So what does Trump think happened to Jamal Khashoggi? https://t.co/3wOuiSa2Ap

— Vera Bergengruen (@VeraMBergen) October 16, 2018
— Klippenstein's monster (@kenklippenstein) October 16, 2018
Trump called for the Central Park Five to get the death penalty before they were proven guilty and then — after they had been proven innocent by DNA evidence — STILL insisted they were guilty.

I guess they should've bought a floor in Trump Tower, too.https://t.co/DaV0SqtJGW

— Kevin M. Kruse (@KevinMKruse) October 16, 2018
Ed Whelan out there somewhere furiously looking up Zillow blueprints of the Saudi embassy

— Andrew Lawrence (@ndrew_lawrence) October 16, 2018
The President of the United States has just compared the international condemnation of Saudi Arabia for the disappearance of Jamal Khashoggi to the sexual assault allegations against Brett Kavanaugh.

— Kyle Griffin (@kylegriffin1) October 16, 2018
Trump lamenting Saudi Arabia being treated "guilty until proven innocent" rings a bit hollow considering he maintains the innocence of people who have actually plead guilty to and been convicted of crimes. pic.twitter.com/BShmmThnI5

— Nathan McDermott (@natemcdermott) October 16, 2018
Apart from confirmation of the grisly details, the whole world knows what the Saudis did to Jamal Khashoggi. Trump continues to take a bone saw to the global reputation of the United States. (Not to mention further debasing the Supreme Court with this Kavanaugh line.) Disgusting. https://t.co/A09FSfh80F

— Mark Follman (@markfollman) October 16, 2018
Kavanaugh must love being lumped in with Khashoggi's killers. https://t.co/Y1eYhDAWrO

— Daniel W. Drezner (@dandrezner) October 16, 2018
Trump acts like everything is an extension of his manipulation of the U.S. political-media narrative. So Kavanaugh being credibly accused of sexual assault became a "win" and survivors became "angry mobs." So we get this. The focus has to be on the crime, not the cover-up. https://t.co/7AT2Hbykn0

— Ben Rhodes (@brhodes) October 16, 2018
Trump is now comparing Saudi Prince MBS to Justice Kavanaugh, saying both were wrongly presumed guilty. I can't imagine Kavanaugh finding that particularly flattering. Either way, it's idiotic beyond words.

— Laurence Tribe (@tribelaw) October 16, 2018
[image via screengrab]
Follow the author on Twitter (@calebecarma).
Have a tip we should know? tips@mediaite.com